Chia this and chia that — Everything has been about chia seeds lately and rightly so. This tiny seed is definitely mighty. Extremely nutritious, crammed with fibre, protein omega-3 fatty acids, calcium, magnesium, low in calories and tasteless, making it the perfect all rounder.
Here are a few fun ways to incorporate chia seeds into your everyday life —
Chia seeds in water —
One of the simplest ways to incorporate chia seeds into your diet is adding it to water. Soak the chia seeds in a glass of water for about half an hour. This is extremely cooling for the body, especially your digestive system. To take your chia water a notch up by adding chopped fruit like lemons, berries, oranges, or turmeric to multiply the antioxidants.
Juice soaked chia or chia seed lemonade —
Water isn't the only liquid you can soak chia seeds in. Fresh fruit juice or homemade lemonade are noteworthy alternatives.  Juices and lemonade tend to have sugar so make sure to keep your intake moderate and not go overboard. You can also experiment by combining ingredients to create new flavours like —cucumber, orange, and mint leaves,  and watermelon with lemon juice and crushed ice. All these make refreshing drinks.
Chia pudding or chia ice cream —
Chia pudding is made like chia water except to get that thick creamy pudding texture, add more seeds and let the mixture soak for longer. Chia pudding is often made with your choice of plant based milk or whole milk. Go crazy with your toppings- dry fruits, berries, nuts, vanilla, cocoa, chocolate, coffee, jam, compote, caramel… the list is endless. If you don't like the texture of chia seeds, you can make chia ice-cream by blending it to give it a smoother finish. Freeze the blended chia mixture to get creamy and ice cream.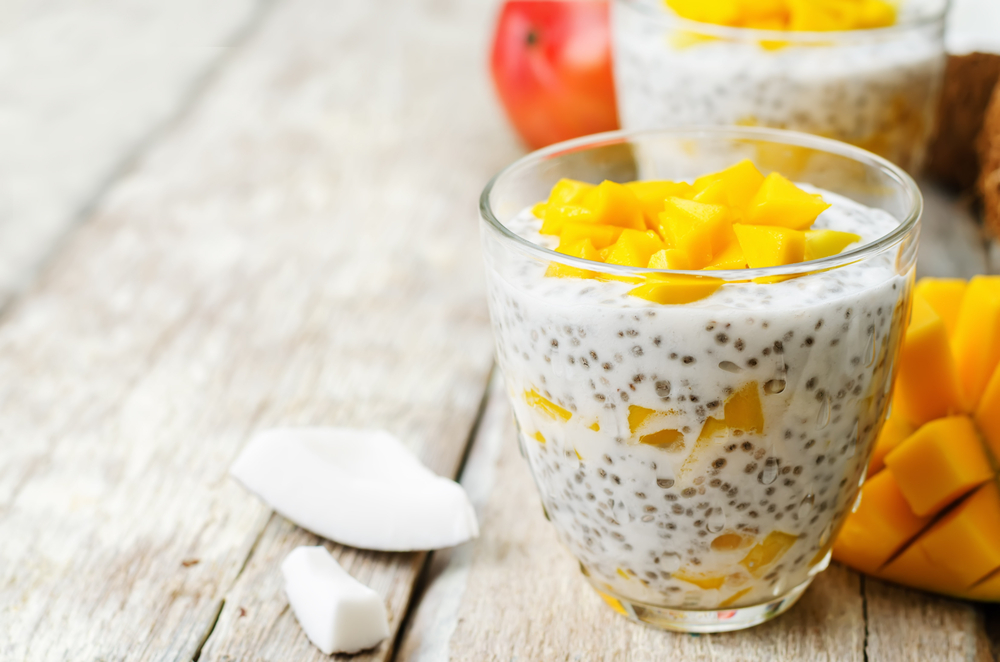 Chia seeds in smoothies —
Smoothies are a yummy, flavourful way to get a balanced daily dose of veggies, fruits, protein and vitamins. If you're feeling frisky and you want to make your smoothie even more nutritious, try adding some chia seeds as a topping. You can use the chia seeds raw or by soaking them to make a gel. Adding chia seeds to a smoothie increases the nutritional value of your smoothie by a hundred fold.
Raw chia seed as a topping —
Did you know that you can eat chia seeds raw? Although the go to is to soak chia seeds, eating them raw is as nutritious and delicious. You can sprinkle it on your smoothie, pancakes, french toast, dessert, ice-cream, salads and oatmeal.
Chia cereal, homemade granola or breakfast protein bars —
Forget about your boring cornflakes and try something different — chia cereal.
Easy to make, just soak the chia seeds overnight in milk or plant based milk and top with nuts, fruit or cinnamon. Adding mashed bananas or vanilla essence to the mixture gives it a nice kick as well. Another breakfast alternative is making chia seed bars. You can use any mixture of seeds, nuts and even oats, a bit of dates as a sweetner and dry chia seeds, roll into balls and store in the fridge . Its a ready to grab snack. Store bought protein bars are high in sugar content, so homemade is the better way to go, if you have to buy, just be sure to read the ingredients before you buy it.
Chia truffles or laddoos —
Chia seeds make a great on-the-go snack. Chia truffles are a quick and easy no-bake snack. Combine dates, cocoa, chia seeds and oats. Voila! Your chia truffle is ready.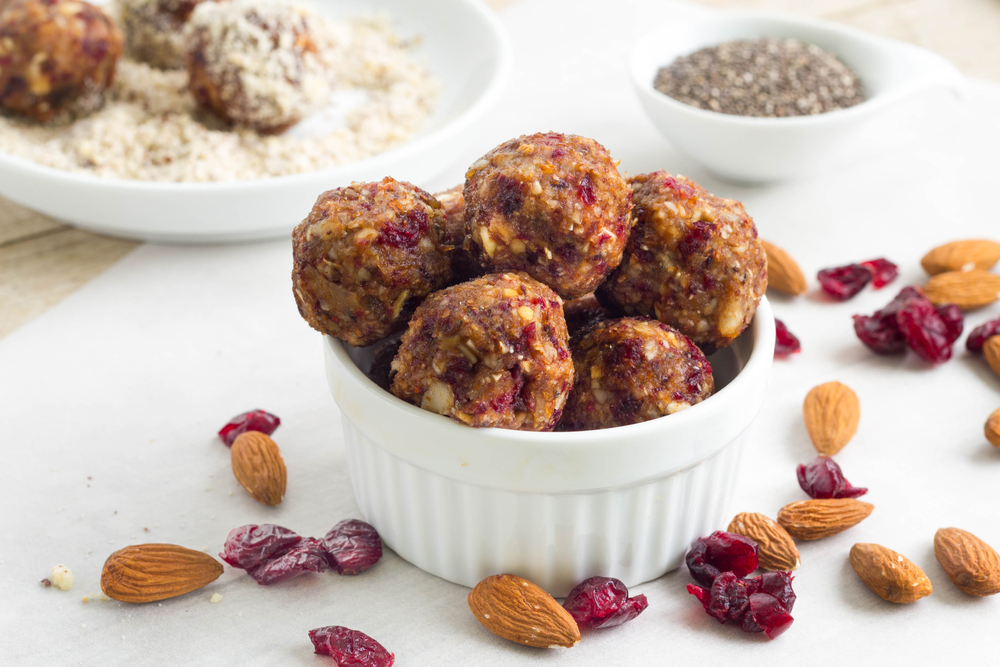 Chia cookies —
Who doesn't love cookies? Chia seeds are a great addition to give any cookie recipe a nutritional boost and keep the cookie monster at bay!
In a stir-fry —
Chia seeds can be used in savoury dishes as well. Just add some seeds to vegetables or meats or even fish stir-fry dishes. It's as simple as that.
Added as a salad topping or in a salad dressing —
Chia seeds is a great salad topping. It adds some texture and a healthy boost to your salad. Another way to incorporate it into your salad is by adding it to the salad dressing. It pairs well with a creamy dressing or vinaigrette.
Baked in bread or cakes —
It's impossible to find a recipe you can not add chia seeds to. Bread or cakes is a great way to sneak in some nutrition into your meal. Adding them to your cake and bread mix will boost the fibre, protein, and omega-3 content.
As a crispy crumb coating for meat or fish —
Another fun way to use chia seeds is as a coating for meat and fish as a healthier alternative to bread crumbs or panko.
In pancakes or french toast —
You can add chia seeds as a topping or mix it into your pancake mix to kick up the nutrition level or top the french toast with chia seeds and honey.
In jams or compote —
Chia seeds can absorb ten times their dry weight in water, which makes it a great substitute for pectin in jams or compotes. Pectin tends to be quite bitter, making chia seeds a great substitute with the added benefit of reduced quantity of sugar. Chia jam is also much easier to make than traditional jam.
In soups or gravy —
Chia seeds are a great replacement for flour or cornflour when thickening stews, soup or gravies. Soaking the seeds or adding the chia gek instantly thickens your dish.
As an egg substitute —
If you are vegan, vegetarian or not a fan of eggs, chia seeds are a great substitute for eggs in recipes. To substitute 1 egg, soak 1 tablespoon of chia seeds in 3 tablespoons or 45 ml of water.
Use it as a garnish —
Salads, fruits, eggs, soups are just some of the wonderfully diverse dishes you can add chia seeds to. Not only does it add extra nutrition to your meal but adds some texture and presentation to your dish. Bland in taste it doesn't impact the overall flavour of the dish.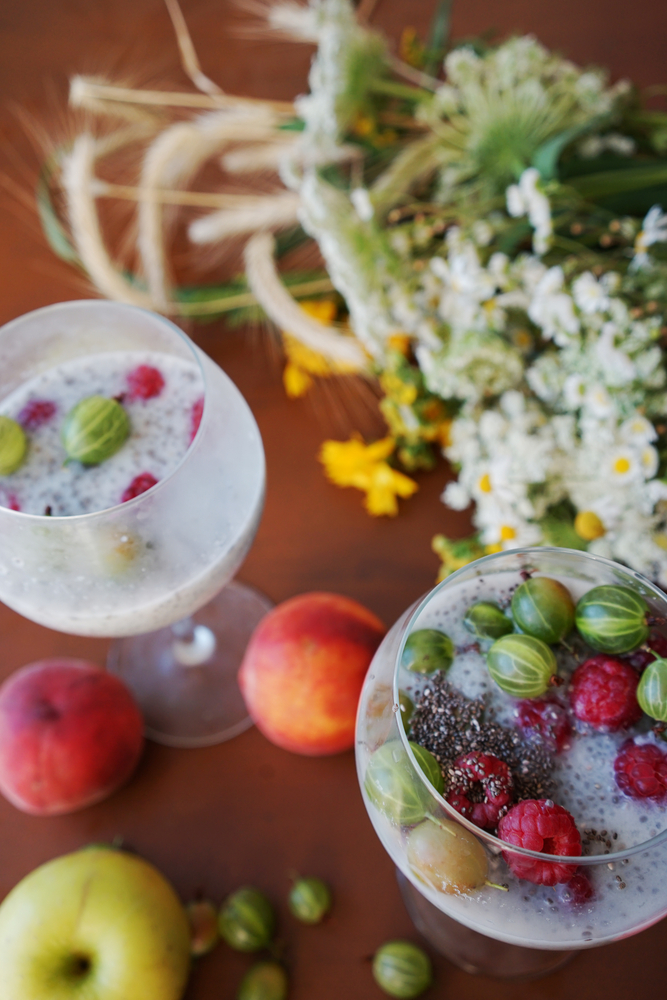 Chia seeds in oatmeal or yogurt —
Adding chia seeds to a bowl of oatmeal or yogurt requires little to no  effort. Prepare your oatmeal as usual. You can either mix the chia seeds into the oatmeal or sprinkle it on top as garnish. Chia seeds can similarly be added to yogurt as well.
As a thickener for homemade burgers and meatballs —
Instead of eggs or breadcrumbs try using chia seeds to bind and thicken meatballs and burgers patties.
Added to tea —
Adding chia seeds to drinks is the easiest way to include them in your diet. Whether it's iced tea, herbal tea or chai, adding chia seeds to your tea makes for a totally new texture with tons of benefits for your health and metabolism. Add some chia seeds to your next cup of tea!
To make tortillas, a pizza base, or falafels —
Soft tortillas can be loaded with any toppings under the sun, including chia seeds. Chia seeds can also be used to make a high-fibre, crunchy pizza crust. Falafel balls with chia can be especially enjoyable for vegans, plant based individuals and vegetarians.
Chia seeds are multifaceted and an adaptable ingredient that is currently trending worldwide. Keep adding it to many foods and recipes for a fabulous healthy boost.