Indian food and the variety it has, has always been an interesting subject with foodies across the world. The huge diversity of our country in its terrain and agricultural output itself contribute largely to the variety we see in our local and basic food. Firstly there is a north-south divide. The majority of North Indians are wheat eaters whereas the Southern States consume more of rice. From these two major regions emerged many tasty dishes. Which were initially meant to provide a staple nutrition. Adding spice and flavours to the original spread, of the various influences of the invaders, mainly Mughal (not so much the British.)
We know that it is rich Mughlai cuisine which has left a lasting impact on Indian food probably for the better. Another influence is seen coming from the many Royal kitchens that dotted our vast country. Each Royal family prided itself in having its own signature dishes which are now reaching the common Indian, largely through Heritage hotels and their restaurants.
As communities we may be stickers for our own food be it aloo paratha or chhole bhature for a Punjabi and idli sambar for a Tamilian. In an individual capacity we are opening up to trying different foods as we travel and explore through the country and outside it too.
Thaali is a popular thing and easy to order especially when we travel. It provides a balanced, nutritious meal along with a variety of things. Best for an "on the move" busy person who doesn't want to waste time on deciding what to order. In the Western parts of our country the popularity of a thaali is the highest. The Gujarati thaali features at the top as the choice even outside Gujarat. Obviously the best thaali is available in Ahmedabad and Vadodara.
Originally Gujarati food was very simple. Gujaratis are fond of eating and love to snack. While one can snack anytime, the average Gujarati likes to eat snacks even as part of their meal! The cuisine is full of – to die for mouth-watering farsan (snacks). You have a large variety of freshly made dishes like dhokla, idra, khaman, khamni, khandvi, bhajiya, kachori, thepla, handvo, muthiya, paatra, samosa, patties and many others. While there is a large variety of dry snacks too like khakhra, ganthiya, phaphda, chevdo, bhuso, papad-papdi, the list is endless.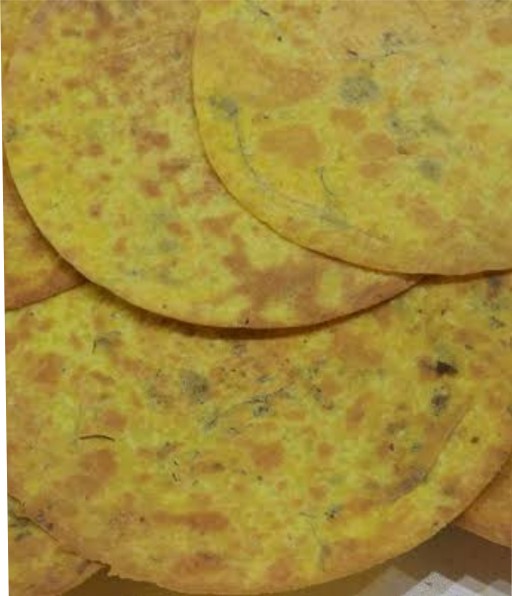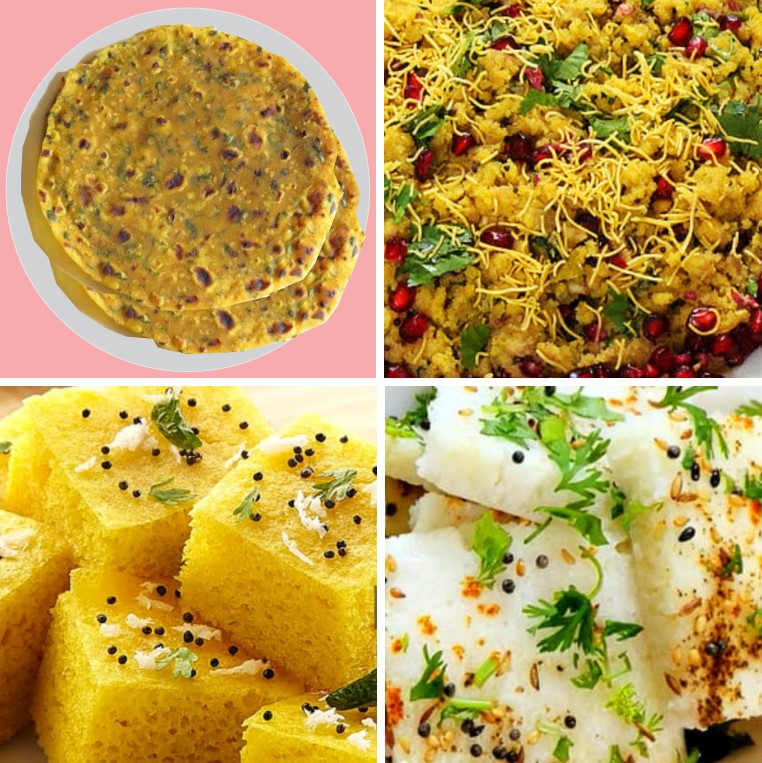 The different regions of Gujarat, North, South, Saurashtra and Kathiyawad have added to the varieties with their specialities. The sweet flavours in dal and kadhi are due to the dependency on jaggery to counter the saltiness that permeates coastal region of Saurashtra. To compensate they add lime, tamarind and kokum. Hence the food of the coastal areas results in this sweet and sour taste.
There is certain similarity in the simple yet hardy and wholesome food of North West Frontier Provinces – now Punjab and Sindh and Kathiyawadi cusine…. With brinjal bharta, dal, tandoor baked bajra or jowar bhakhri and Makki ki roti with dollops of white butter or ghee, jaggery and chhaas or lassi to top it all.
While the food of the Surat region and costal belt here is quite different.
The identity of the popular Gujarati Thali is formed by the coming together of many cuisines from all over the state. Gujarati food is often accused of being loaded with oil but one can actually make a healthy choice! ……Gujarati food is mainly vegetarian, a typical Thaali – has choice of 3 seasonal vegetables (1 dry veg + 2 semi gravy) and 1 pulse item and two varieties of farsan, one steamed and one fried.  At an average every home would have 1 seasonal vegetable + 1 pulse veg + dal/khadi as the main meal. ……the other variety of dishes like dumpling gravies, pulses (kathol), sprouts etc., outnumber the actual vegetable dishes. This fusion is in fact very well balanced, healthy and nutritious diet with a combination of wheat and non-wheat rotlas, rice, fermented rice, split chickpea, variety of lentils, millets, grains where the food is largely baked or steamed and one can by choice avoid adding the oil on top as garnishing or "tadka."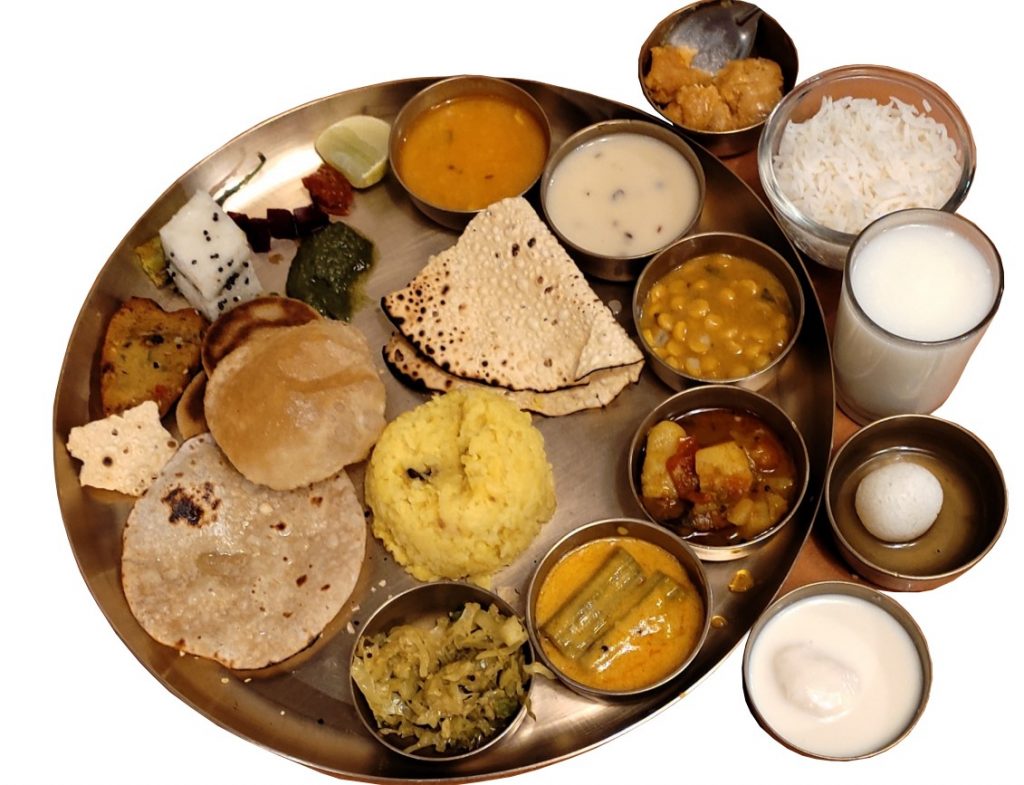 The sweet dishes too include variety of items made by using broken wheat fhadha lapsi or kansaar, sheero- halwa made from sooji with ghee and gud.
Even sukhadi, magaj, mohanthaal etc. are popular and healthy sweetmeats.
Every season has its specialities as in other regions of our country. In the winter it is Undhyu and jalebi, while in the summer it is Aamrus and rotli.
While Shikhand poori is welcome anytime of the year in milk rich Gujarat.
Typically a Gujarati thaali in any restaurant will offer anything between fifteen to twenty items which include dal, subji, kadhi, kathol, farsaan, kachumbar, papad, chutney, choice between khichadi and rice, bhakri, rotli and poori and at least two desserts. While in Baroda, MANDAP restaurant is the best go to place for an excellent, memorable and affordable authentic Gujarati thaali.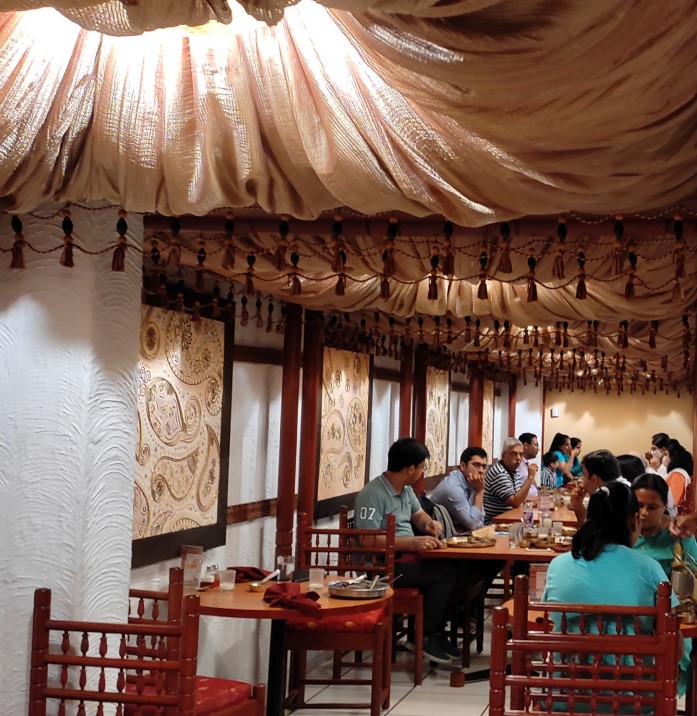 The food is relished not only by all types of visitors coming to Baroda, but is a popular destination for the local Barodians as well. Some families are known to have a fixed booking for one weekend every month, while others make it a point to celebrate birthdays and anniversaries of their parents only at Mandap……. Because the elders/ parents enjoy this food. They seem to have an emotional connect with it since almost four decades. The restaurant too has maintained its taste, quality and standard. So next time you are in Baroda…you know where to head!
South Gujarat, especially Surat and surrounding areas are famous for another mouth-watering stand-alone dish called Undhiyu or Undhiya. This is a winter favourite because all the vegetables used in it are abundantly available in the winter months. It is a mixture of potatoes, sweet potato, yam, small round brinjals and a variety of beans called papdi in the local language. Another important ingredient is oval shaped dumplings made of fenugreek leaves called methi na muthia. These are first fried by themselves and later added to the dish when it is being cooked. But it does take a lot of oil and spices to make this variety. There is a non-vegetarian version of it also which is made by using tender chicken. A popular variant of this same dish is the rural and healthier version of the same, where all the vegetables are put into an earthen pot matka, which is sealed on the mouth and cooked with simple masalas, in an open fire, this is called Umbadiyu. It's a baked alternative to the oily one and equally or tastier option. This dish is nutritious and filling, however people like to have it with green garlic chutney and jeeni sev (fine noodle like a savoury made from besan.)  While offering it to guests one can add pooris, jalebis and fresh buttermilk which would make it a complete meal.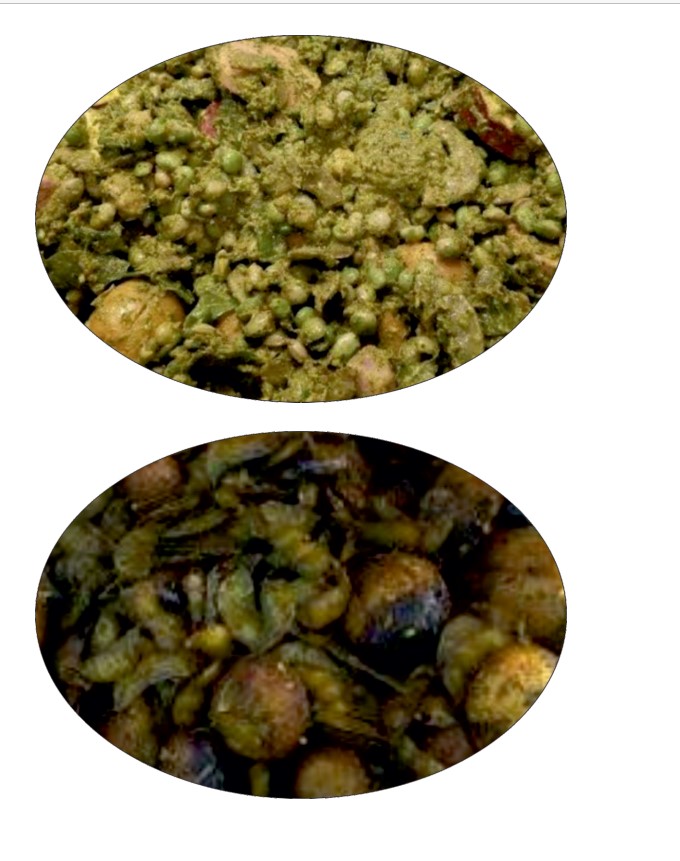 Gujarat is also known for its religious population and the many festivals round the year…. Where alongside celebratory decorations, pandals and pujas, people fast for days together like, during the two Navratris or Naratas, the holy month of Shravan and special days like Ekadashi, Chauth etc. So naturally there is a wide variety of dishes made for those who observe a fast. "Fast Food" albeit of a different kind. They are more like snacks which are made from tubers like potato, sweet potato, elephant foot yam- suran or jimikand, Taro root – arbi, dry fruits, coconut, groundnuts, rajagrah and singodha powder, sabudana etc, basically no grains like wheat, rice, pulses and our common vegetables. Just to name a few – Leelo Chevdo,  Sabudana Khichdi, Kaatri, Farari Chevdo, Sabudana or Kaju wada and various sweet dishes too, especially ladoos of different types made from milk and dry fruits.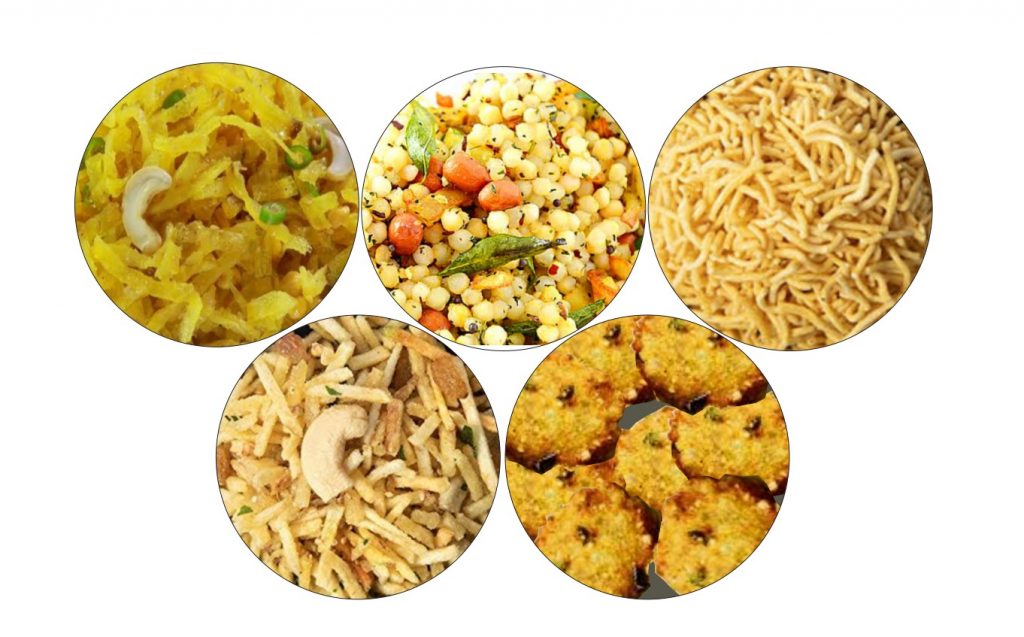 We all love our traditional food and talking of thaali, different types of thaali (which actually means a fixed menu, which can be easily ordered) we have not only the popular Gujarati thaali, but Punjabi, Bengali, Goan, and South Indian thaalis available at different restaurants all across the country. Now that we Indians have started travelling and are open to trying different kinds of food…Imagine if we could get a universal standardized INDIAN THAALI everywhere……. Give it a thought as to what all food items it could/should include. You could go up to 10 individual items, that should form a filling, notorious and tasty meal for any Indian. Think about it.