When it comes to dining out, Indian chefs have moved beyond outdated ideas of European cuisine and have started looking into their own backyard with innovative eyes, writes Vickram Sethi. This is the first in a series of restaurant reviews that Seniors Today will carry every other Saturday.
The Bombay Canteen menu describes itself as the new and the familiar. Chef Hussain Shahzad is adventurous, forward-thinking and leads an eager team. He stands at the kitchen counter ensuring  that every dish which goes out meets his scrutiny and the outlet's standards. He makes sure it is despatched from the  counter within 30 seconds confirming your order gets to your table at the right temperature and is well-plated.
Décor wise, the restaurant has a unique unfinished ambience. The walls are unfinished, old mirrors from a 'B' grade barber shop, an odd wooden and glass partition that is not sophisticated enough to be art déco but probably pulled out of an old haveli in Gujarat. There is no reason for it to be there except reverse snobbery. It serves as a divider between a children's area and the rest of the restaurant.  The bar bursting with fun and flavour, as bars should!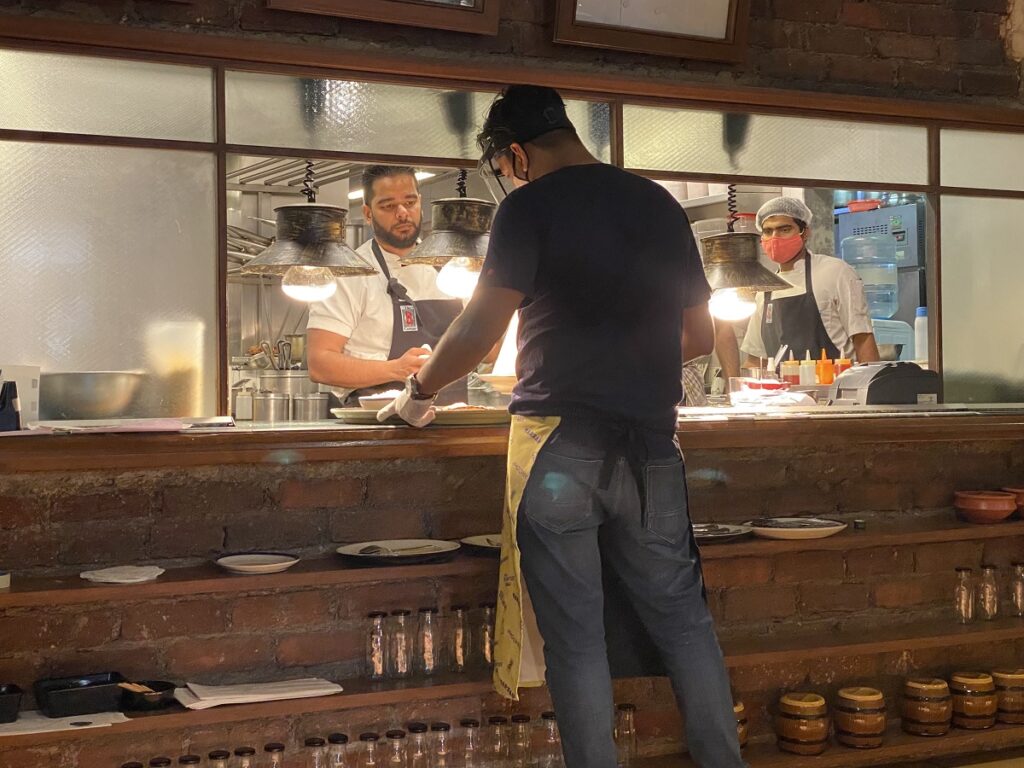 A lunch for four set us back by Rs 8000 which I found expensive, I have listed below the food and my comments and rating.
1. Chargrilled Winter Carrots – Pickled onions goat cheese toasted pistachios crunchy, sweet and sour, and at the same time the freshness of the carrots comes right through. I would give it a 6/10.
2. Ghee Roast Chicken Seek – Accompanied with kohlrabi and pear koshambir. The salad was so good that you could have at it as a part of a main dish, however the seek failed in taste. It was a precooked frozen seek that was fried and coated with a South Indian masala. The seek had a very synthetic kind of taste and was a failure. It didn't come with a neer dosa or a paratha that one has to order it separately. The dish didn't work for me and I would give it a 3/10. The waiter saw that we had not eaten Ghee Roast Chicken, because we did not like it. We were not charged for the dish.
3. The Paya Soup Momos – accompanied with a chilli dipping sauce were good. The paya soup momos burst in your mouth and the meat flavoured with coriander and Indian spices I would give it a 6/10
4. Chettinad Prawns Ali-Yolio – I couldn't understand the change of name whether ali yolio was a play on aglio olio. The prawns with the masala oil were delicious – simple ginger, garlic, tamarind masala with oil to be eaten with pav.  It was simple and delicious. I would give it a 7/10
5. Roasted Pumpkin Kulcha – It was a perfect kulcha. The pumpkin stuffing and the pumpkin seeds created a unique taste of its own. I would give it a 7/10
6. Kejriwal Toast – invented by a Mr Kejriwal and earned much fame at the Willingdon Club, it also features on their menu. It was a cheese and egg toast on a slice of brown bread, I would give it 5/10
7. Chola Bhatura -The dish of the day, came with a perfectly fluffed bhatura but the chola lacked taste. No character whatsoever. The Punjabiyat in the chola was missing. The waiter's explanation that this was their take on the chola. To me that was an excuse.  Surely somebody could tell them how to make a chola that could be eaten with the perfect bhatura. What a failure! Chola is now accepted across Indian cuisines, in a South Indian wedding you could have it with sambar masala. May be Chef Hussain needs to visit a Punjabi aunty to get the flavour right. I would give it  4/10
8. Nimona Mutter Paneer – Now Nimona is a very typical UP winter dish of tender dry roasted green peas and then curried with a little masala ghee and butter. More or less across Central India, the Nimona tastes the same. Regarded as a delicacy and served on special occasions. The surprise of this dish was that there was no paneer but a blob of boratta cheese. The mutter was soggy the mint oil was a tadka gone wrong. It was neither nimona nor mutter paneer with a misplaced boratta. I would give it a 4/10
9. Pullimunchi –The famed 'Shetty hotel' fish – this according to me was piece de resistance of the meal. The fish dipped in tamarind chilli masala tempered with mango and ginger soft melt in the mouth perfectly flavoured. I would give it a 7/10
There were 3 desserts on the menu:
1. Guava Tan Ta Tan – not tarte tartin it was guava caramelised red chilli with an ice cream. Guava chilli ice cream is the new addition to the Indian menus and was successful. I would give it 6/10
2. A- Kela Bread – a banana bread with ice cream. I would give it a 5/10
3. Strawberries and cream A Unique Chenna Donut Citrus Mousse Roasted Strawberries Accompanied with a Strawberry Sorbet. Put together perfectly. I would give it a 7/10 – it's the kind of dish that leaves a memory in our mouth.
In conclusion:
I don't know what they are trying to achieve by having misleading names. The ghee roast chicken was quite off the mark. The prawns ali-yolio did not require ali-yolio with it unless chef Ali invented it or they were trying to play with the words aglio e olio. The name Nimona mutter paneer was a misnomer I can't figure out whether they are trying to have fun or mislead their customers.
Overall, Bombay Canteen combines the classic and the experimental. It's a diverse and adventurist menu making the dining experience enjoyable and fun. Bombay Canteen gives its patrons a smart casual dining experience, it's a venue free from convention.  I would visit it again.
Bombay Canteen

Kamala Mills Compound, Lower Parel, Mumbai

Opens @ 12noon

Meal for Four (minus alcohol): Rs 8000

Reservations: 88808 02424