Partition and its attendant anguish holds enduring lessons for all of us, even today, writes Vickram Sethi
The Sethis were wealthy traders from Peshawar and somewhere in the early 18th century one part of the clan moved to Bhera. They owned salt mines and sold salt to the entire northern region. In Peshawar and Bhera they built large Havelis for themselves, right next to each other. This part still exists and is called Sethiyon ka Mohalla (Sethian da malla). One of the sons Moolchand married Laxmi Devi an ordinary school master's daughter who couldn't afford to give his daughter any dowry but taught her to read and write, and infused in her his mathematical genius. She could calculate faster than any of the munshis, had a strong business acumen and became a trusted partner of her husband Moolchand's business.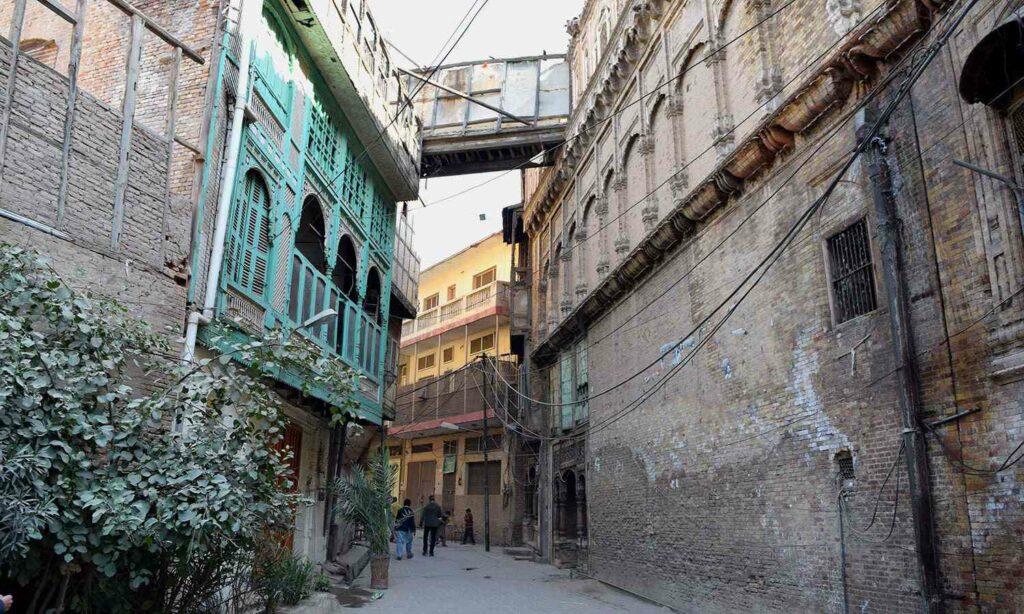 Laxmi Devi and Moolchand decided that they would move to Rawalpindi. Pindi was the gateway to Kashmir, North-West Frontier Province, and the Khyber Pass. It became a center for commerce, trade and banking. The British set up their headquarters of the northern command of the British Army in Pindi and it became the biggest cantonment in the whole of undivided British India. Pindi was a great commercial, administrative, ministry and cultural center of the vast area, west and north of Lahore. Moolchand saw this as the future. He bought an estate of three houses from Wazir and Fakir Sayyad who sold the three houses for a sum of Rs. 2,100 (two thousand one hundred Rupees). Moolchand lived in two houses and made an office (Hatti) in the third house which also faced the road with go-downs for storing the salt.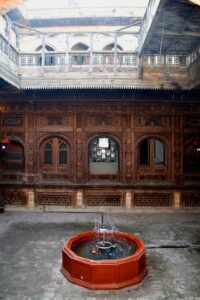 Salt was transported on camels and it took two days. The camels walked through the night and rested from a little after sunrise to sunset. There were four spots on the way where makeshift houses, water wells, and shelters were made for the camels. During winter the camels reached much faster. Laxmi Devi employed cobblers to make large leather sacks in which salt was carried on camels to Rawalpindi. These sacks were weather-proof and the salt remained intact. From Pindi, the salt was sold to wholesalers all over the region. It was Laxmi Devi's idea that instead of sending the camels back, they would sell the camels in Rawalpindi itself. They purchased a large area where suitable stables were built for the camels. Not only did they trade in salt but they also sold camels and this became a much bigger business than the salt business. The British cantonment had an ongoing requirement for camels.
By now their eldest child Kanshi Ram started working in the shop. He realized that there was a huge business opportunity in supplying to the cantonment and various arms of the British government. He inducted his younger brothers Hari Ram and Amolakh Ram also into the business. Both the brother were smart businessmen. Amolakh Ram set up a fruit business and through a chain of around 20 wholesalers, started a two-way trade in fruit. Right from Kabul to Srinagar and up to Mumbai, Amolakh Ram sold fruits and also supplied to the British cantonment. In the overall business ventures, the salt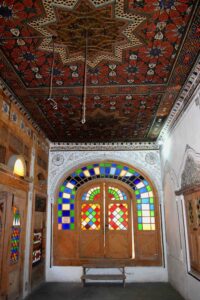 business had diminished and the family decided to sell the salt mine.
Moolchand moved his business to an area called trunkonwala bazaar and extended his residence to include the three houses. They bought a large plot in the trunkonwala bazaar and built go-downs and offices for the ever-expanding business.
The fire of Independence had been lit there were agitations everywhere. Kanshi Ram and his father participated in the Bengal Agitation of 1906-07. Both were arrested in the partition of Bengal, and Kanshi Ram was in imprisonment for a year. By now Rawalpindi had become a center of all revolutionary activities.
One day on a hot May afternoon a fakir entered the bazaar shouting at the top of his voice "hai koi mai ka laal jo meri dil ki muraad puri kare" repeating this again and again. May is one of the worst months in Rawalpindi, the sun is so strong that even the vultures and crows do not venture out in the sun. Kanshi Ram heard this fakir and sent one of the workers to call him. As the fakir came to the shop Kanshi asked his what is your heart's desire? The fakir looked at him and responded do you have the guts to give me what I want? Kanshi Ram said tell me what you want. The fakir "I can ask for anything, I can even ask for the shop, all this property of yours."Kanshi ram very calmly said tell me what you want. The fakir said I want to have halwapuri and a mulaazin (worker) was sent to get halwapuri and the fakir had his meal and left. Something distracted Kanshi Ram at that time but while going the fakir said "Kanshi Ram tune meri aawaz suni hai, duniya teri awaaz sunega" the fakir left and after about a minute KanshiRam got up started running after the fakir. It was a sight that no one had ever seen before. The fakir also seemed to have gone far and, as if knowing that Kanshi was running after him, her quickened his speed. Eventually Kanshi Ram caught up with him and they looked at each other. Kanshi Ram requested that the fakir to come home and stay with them. The fakir said you are a grhast (family man) I cannot stay or even eat and drink in your house. But I will come again.
That evening Kanshi Ram addressed his first public meeting.he began his Speech with 'Eko jeya karra beko jeya kar' – make us all alike O God, make us all alike and help us move forward. Every speech when Kanshi Ram gave he began with this invocation.
Fire in the bazaar
One evening a munshi from the shop came home and informed Kanshi Ram that there was a group of young men setting fire to all the shops in the bazaar. Kanshi Ram got into his tanga and hurried to the market just in time to save his shop. There was a mob of a hundred boys setting fire to every shop. On seeing Kanshi Ram a young man who seemed to be the leader of the mob came up to Kanshi Ram and asked "Shaaji, which of these shops are yours?" to which Kanshi Ram replied "Saari dukana meriyan hai, gharjao, nahao aur gussa thanda karo" (all the shops are mine, go home, have a bath and cool down). The young man who had come forward asked Kanshi Ram "Aap ne mujhe pehchana?"Kanshi Ram replied no, who are you? The young man fell at his feet and said I will come day after tomorrow to meet you and dispersed the mob. The young man appeared in the shop as promised on the appointed time and introduced himself as Sarfaraaz, the son of Noorali, profusely apologizing.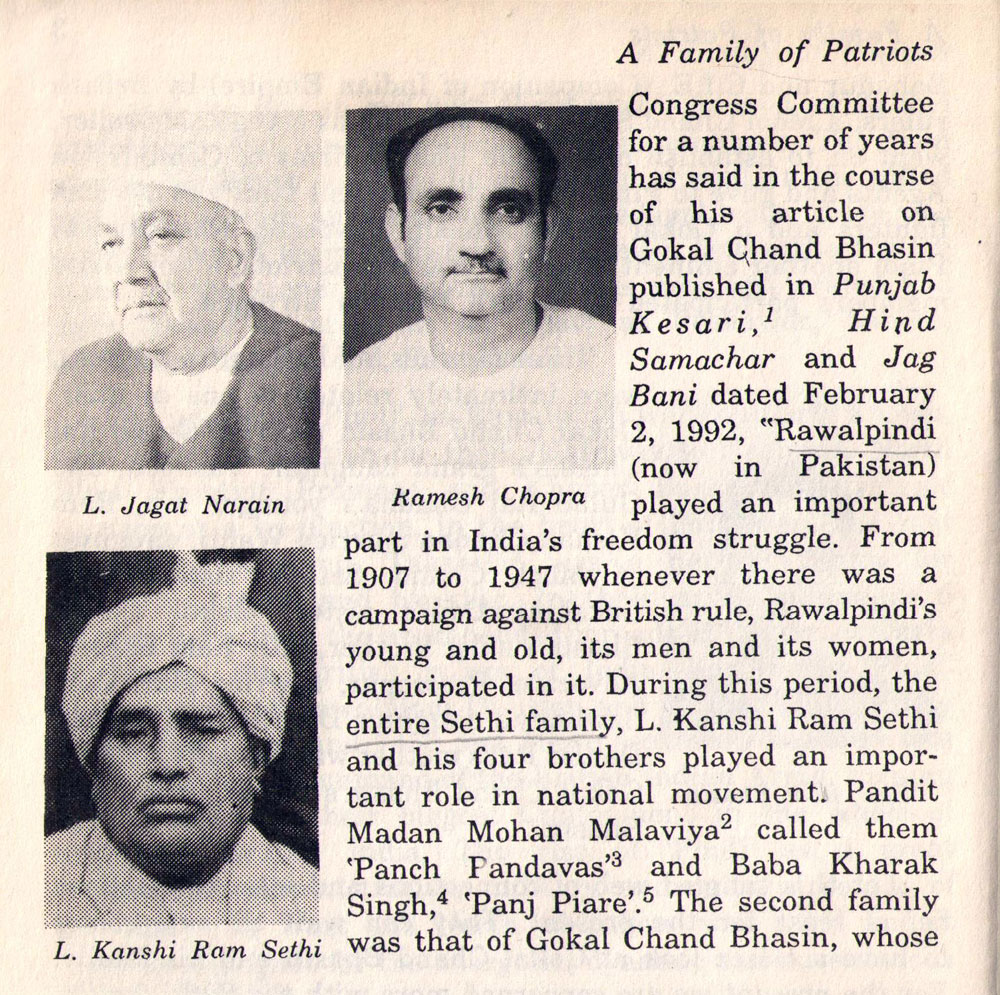 Noorali was a jaggery trader in the bazaar and a dear friend of the Sethi family. They worked together buying the entire output of sugar and jaggery from the factories and selling them to the British and other wholesalers from different parts of the country. One day Noorali came to the shop with all his valuables –gold, property papers, bank accounts, money and left these in the custody of Kanshi Ram saying that he was going to Haj. He requested Kanshi Ram to keep these till he returned. They bid each other goodbye and it so happened that a year later news came that Noorali had passed away. Once it was confirmed from the others who had accompanied him, Kanshi Ram called the two wives of Noorali along with two elders from the community. He told the wives, before going for Haj Noorali had left valuables –gold, property papers, bank accounts, money and if the wives agreed to his decision he would divide the wealth in the manner he thought fit and if they didn't agree he would deny that he possessed anything. The two wives could not believe their luck and readily agreed. The first wife had a son and a daughter and the second wife had two daughters. He gave the elder wife 40% and the younger wife got 60%. Both of them agreed and Kanshi Ram handed over everything to the women. Sarfaraz was the son of the first wife and at that time was twelve years old and was a witness to all this. He never forgot what Kanshi Ram had done for them.
Rawalpindi became the centre of all underground revolutionary activities in Punjab. The Sethi brothers – Kanshi Ram, Hari Ram, Amolakh Ram, Govind Ram and Jagat Ram were at the forefront of the National movement.PanditMadan Mohan Malviya called them the paachpandav and Baba Khadak Singh called them PanjPiare.Kanshi Ram Sethi was the president of the Indian National Congress and was jailed seven times under various laws.
For all their wealth the Sethis lived a very simple life. Kanshi Ram only wore khadi and so did his wife and mother. Food was always frugal – one dal, one vegetable, hot tandoori rotis and four five kinds of achaar. Pulao was made if there were guests, and in the summer there were various kinds of raitas and dahi. The men ate together in one thaal and the women ate later. The Sethis funded the DAV College and Hari Ram becamea trustee of the institution. They also funded the Arya Samaj but stayed away from any active involvement. They built a baratghar (janjghar), a venue that was given for weddings for a token price of Rs. 5. Laxmi Bagh as it was called had all requirements for a barat of up to a hundred people. Beddings, pillows, blankets, crockery, cutlery, utensils, ten toilets for men and ten for women. The Barat ghar even had a doli to send the bride home. Kanshi Ram also insisted that all the Sethi children should be married here. His belief was that if our children get married at this venue no one will hesitate to use this for their daughter's weddings.
The family was close to Lala Lajpat Rai, and Kanshi Ram was his mentor. Kanshi Ram also provided him funds whenever he needed money for the revolutionary activities. On an occasion, Lala Lajpat Rai asked for some money and Kanshi Ram handed over the checkbook and said fill as much as you want. Lala Lajpat Rai filled in Rs. 10,000 (Ten thousand) to which Kanshi Ram said: "baniya you can't give and can't take, I had kept a lakh of rupees for you". After the money was given to him Hari Ram added that we had kept a lot more money for you, now you satisfy yourself with this 1 lakh. A lot of the underground revolutionaries came asking for money and Hari Ram at his discretion would provide funds.
The Hardinge bomb case was largely funded by the Sethis and Hari Ram Sethi was the active participant. Part of this bomb was made in Pindi and part of it was made in Ajmeri Gate and reassembled there. Two bombs were made in case the first one failed. While Basant Kumar Biswas, Balmukund, Amir Chand and Avadh Behari were sentenced to lifetime imprisonment, no evidence could be found against Hari Ram Sethi and he was let off. During the case, there was one witness whose testimony could have nailed Hari Ram Sethi. He was the man who carried the bomb from Pindi to the Ajmeri gate on Hari Ram's instruction. Hari Ram got him killed and there was no evidence against him and he was let off. As soon as the assassination attempt happened Hari Ram left Delhi and ran away to Calcutta. And returned only after he made sure the single eyewitness was dead.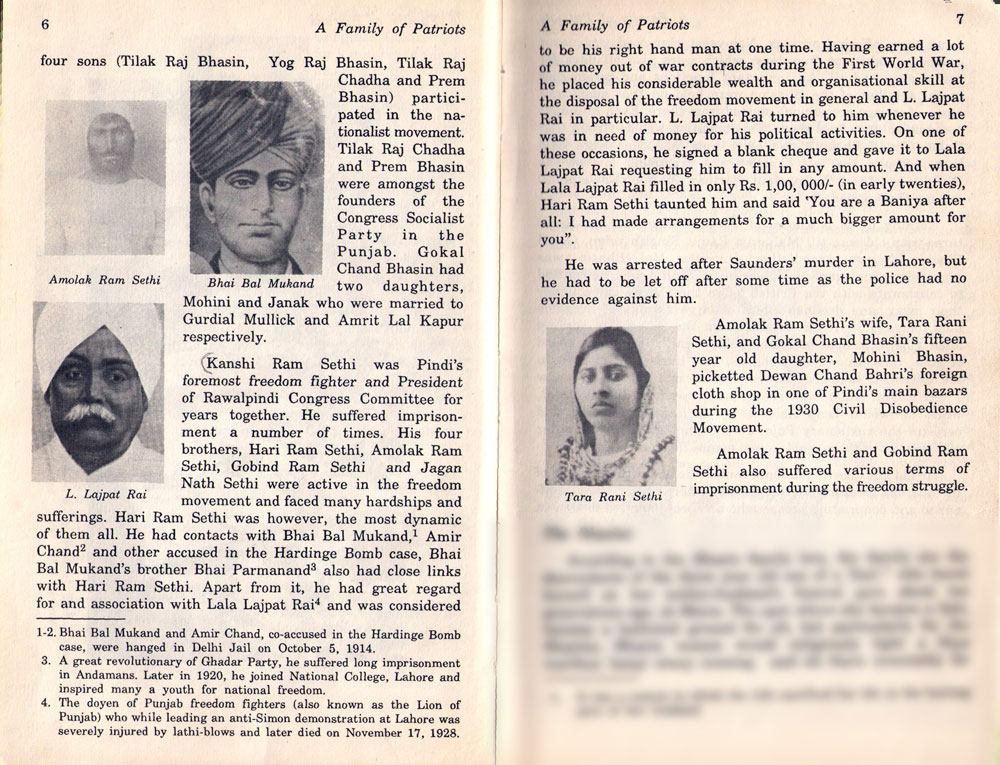 The death of Lala Lajpat Rai had made all the young revolutionaries itch for revenge and they planned the murder of JA Scott who was responsible for the lathi charge on Lajpat Rai and others. Bhagat Singh, Azad, and Rajguru planned the murder in every detail.  Unfortunately, instead of murdering JA Scott they killed a young officer called John Saunders. As a trustee of the DAV College, Hari Ram helped Bhagat Singh, Azad and Rajguru escape after they had shot John Saunders. They escaped on motorcycles driving through the DAV campus. Hari Ram created a narrow gate through which they escaped and within half a minute the gate was shut, completely misleading the British who followed in hot pursuit. Hari Ram was among the 16 people arrested but there was no evidence against him and the police had to release him.
Pagdi exchange
At one time when Kanshi Ram was in jail, he befriended Khan Abdul Ghaffar Khan, who was also in the same cell. It was then they discovered that the Hindu-Muslim fights were instigated by the district magistrates through their trusted lieutenants in the kotwalis around the country. Kanshi Ram realized that this Hindu-Muslim war must stop and campaigned very hard to convey this message to the people. At one public meeting, he invited the head of the Muslim league Jamil Rehamtulla to jointly address the meeting and in full view of the public, he exchanged his pagdi with the leader of the Muslim league.
In that era, the pagdi symbolized the entire being of a person. It was his soul, his izzat and everything that he stood for. After exchanging his pagdi he announced that after this meeting he was going to his younger brother's house to have a cup of tea. Also, he asked all the others to exchange pagdis and become brothers and defeat the evil intentions of the British. It was an emotional moment when people hugged each other and exchanged pagdis. He made them take a vow that never to fight with each other and if at any stage they needed help in riot control or any Hindu-Muslim disturbance they would go together to quash it. By this one gesture, Kanshi Ram had become the tallest leader in Rawalpindi.
The Muslims and the Hindus both trusted him, not just in Pindi but in the entire region. As announced, accompanied by a few people and his son Piare Kishen, he went to Jamil Rehamtulla's house, had tea and left. When he reached home his mother and sister Bhaagwanti were sitting in the courtyard to receive him. Kanshi Ram looked at his mother and asked her, "Bebe pani da mazahab ki hai?" – What is the religion of water? Is it Hindu or Muslim? Saif, the son of Jamil Rehamtulla became very good friends with Piare, Kanshi Ram's son. It was a friendship that played a major role in the lives of the Sethi family. Kanshi Ram became Tauji to Jamil's family. Saif and Piare became closest of friends.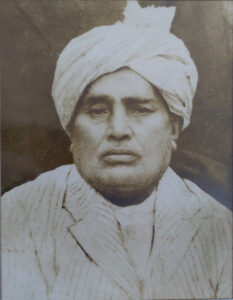 Just before the beginning of the First World War the British set about recruiting young men from Punjab to fight on behalf of the British.  A large number of Indians were recruited by the British Army and had fought in the most difficult terrain and died fighting the war. There were widows everywhere. At the beginning of the Second World War, the British came back again to recruit young men, and Kanshi Ram worked very hard to prevent young men from joining the British army. It was not easy but Kanshi Ram's campaign had an effort and many parents didn't allow their children to join the British army. It was difficult to convince a family living in poverty not to send their children to a well-paid job. But Kanshi Ram's persuasion had an effect and many families did not allow their children to join the army. The British then shifted their focus to the Marathas, whom they recruited in large numbers. Kanshi Ram was again arrested on the charge of sedition and was sent to jail.
In the year 1946, Kanshi Ram's wife passed away and in March Kanshi Ram also fell ill. He died on the 12th of August 1946. All of Rawalpindi was shut and his funeral procession started the next day. Saif's family along with the Sethi family were the pallbearers, and the procession made it way from the house to Laxmi Bagh, where it was kept for people to pay their last respect. People of various fates offered prayers and finally, after a few hours, the procession made its way to the procession ground.  Thousands of people thronged the streets and sprinkled Gulab Jal(rose water) on the procession. There were much condolences meets held for Kanshi Ram and after fourteen days Kanshi Ram's eldest son Sri Ram and youngest Piare went and opened the shop.
The troubles begin
Somewhere in the month of March 1947, the first riots were seen all over the country. Hindus and Muslims were fighting each other and there were rumors that the country would be bifurcated into two. And Hindus would leave this part of the country and move to Delhi. No one knew how the country was going to be partitioned. The Sethi brothers made arrangements to move from Rawalpindi to Delhi.  Hari Ram already had moved to Delhi. Govind Ram was a film producer and he lived in Mumbai. Jagat Ram was also working in India. The riot situation had become worse. There was a mass exodus from the North to Delhi and Punjab. Saif advised Piare that he should shift his family to Delhi, One afternoon Saif came to Sethi home in a Muslim league truck with two of his brothers shouting "Muslim League Zindabad-Muslim League Zindabad". He told the family that he had ten tickets for them, Sethi, on a chartered flight to Delhi and they would have to leave in the next fifteen minutes. He loaded all of them into his truck and escorted them to the airport, ensured that they had boarded the aircraft. Piare's elder brother Sri Ram, his wife, eight of their children and Piare's wife left Pindi. Piare stayed back to gather property papers of the numerous properties that they owned and could only fly back to India in the first week of August.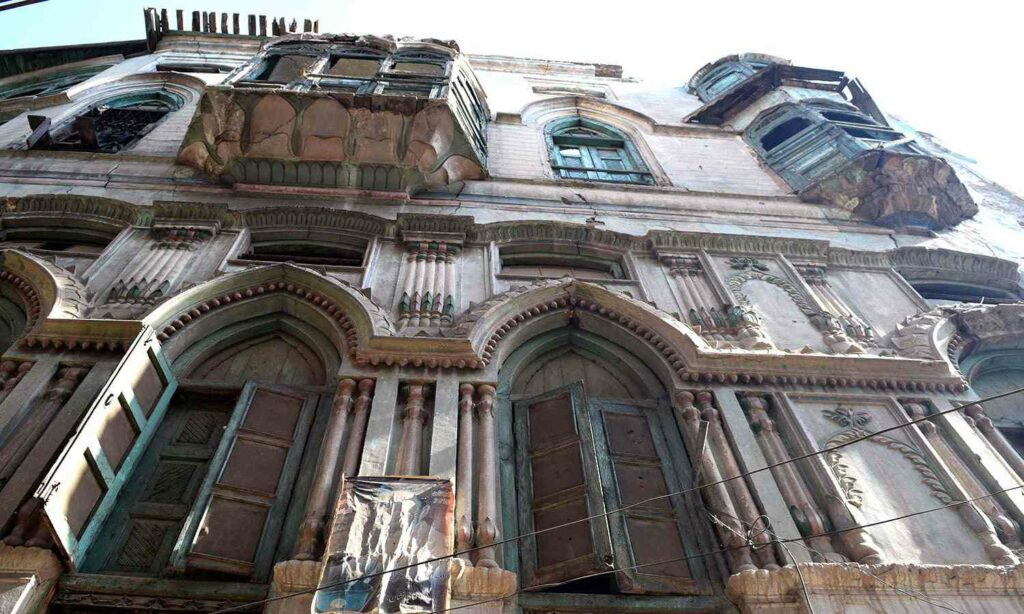 Amolakh Ram who was the richest of the Sethi brothers planned to drive from Pindi to Amritsar in his Chevrolet car, where his wife and children were staying. He made a false compartment in the seat of his car, where he hid Rs 6 lakh. Between them on the front seat they had kept two revolvers for safety. It was decided that Bhushan, who was their driver, would drive the car and Amolakh Ram would sit with him and they would travel through the night.
Bhushan was the son of one of the family retainers and lived with Amolakh Ram's family since his childhood. He grew up and they made him their driver. But Amolakh Ram disappeared and the family presumed they were killed in transit. The fact is that Bhushan shot him in the back when he got down to relieve himself. This is the story of my family, how a Muslim (Saif) escorted a Hindu family to safety and how a Hindu (Bhushan) killed his fatherly Hindu employer, all for money. What then is the religion of good and evil?
Has your family been affected by the Partition? Send us your Partition story at editor@seniorstoday.in