Narendra Kusnur looks back on his association with the maestro and the musical magic he wove
Very often, Pandit Bhimsen Joshi's concerts would end with a devotional song. It could be the famous bhajan 'Jo Bhaje Hari Ko Sada' in raag Bhairavi, the abhang 'Teerth Vithal' in Ahir Bhairav or the Kannada gem 'Bhagyada Lakshmi Baaramma'. Th audience would be on a spiritual high, humming the tune at the exit and even when they reached home.
January 24 will mark 10 years since the Bharat Ratna left us, but the impact his music created hasn't diminished among his followers. On February 4, they will celebrate his 99th birth anniversary, ringing in the centenary. The year-long tributes will feature the event Khayal Yadnya at the Yashwantrao Chavan Auditorium in Kothrud, Pune, from February 12 to 14. Organised by Sangeetacharya Pt DV Kanebuva Pratisthan, it will feature some of India's leading vocalists, besides plenty of upcoming talent.
The term Khayal Yadnya couldn't have been more appropriate, as Joshi was one of the foremost torchbearers of the khayal tradition of Hindustani vocal music. Though he represented the Kirana gharana, his influence on singers from other styles was enormous too, whether it was in trying to copy his style of delivery, his approach to a raag or even his stage mannerisms.
Diehard followers would study his work extensively, often discussing each raag he sang and getting into finer nitty-gritty on how he presented the same composition in different recitals. The lay listener knew him for other reasons, most likely for the national integration song 'Mile Sur Mera Tumhara' or for the story of his running away from his place in Gadag district of north Karnataka in search of a guru.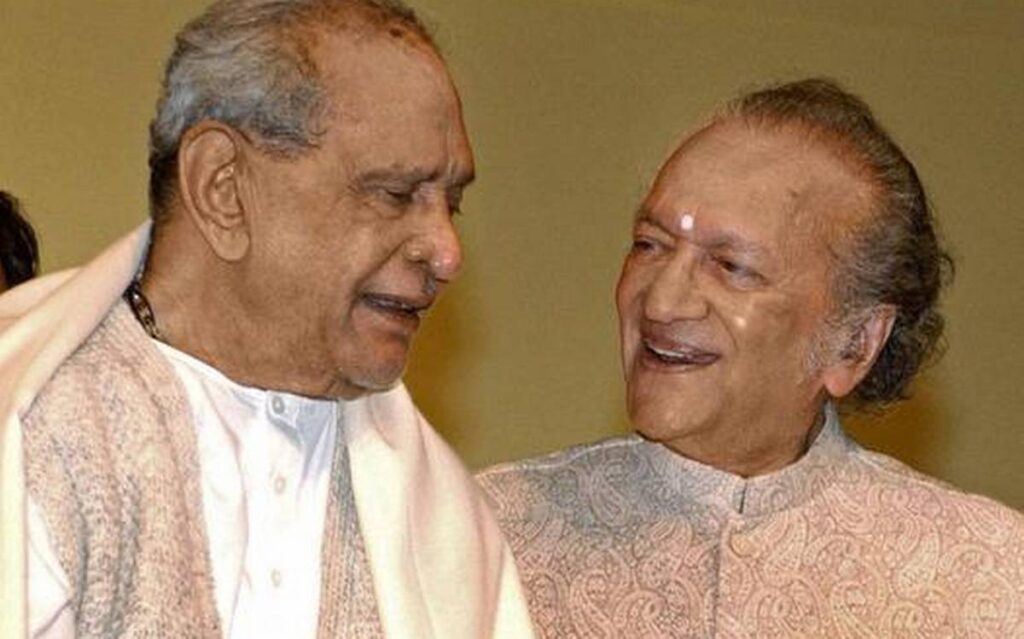 Joshi's childhood story is fascinating. His father Gururaj Joshi was a schoolteacher, and Bhimsen was the eldest of 16 siblings. He was enamoured by music from an early age, and initially learnt from Channappa and Shyamacharya Joshi, whom he accompanied to Bombay for a recording. He decided to take up music full-time after hearing Kirana gharana founder Ustad Abdul Karim Khan's thumri 'Piya Bin Nahin Aavat Chain' in raag Jhinjhoti.
The young boy finally boarded a train, took money from co-passengers and travelled from nearby Dharwad to Pune to Gwalior and even to Kolkata and Lucknow in search of the right guru. His father eventually tracked him to Jalandhar, Punjab, and brought him back. This was when Kirana gharana veteran Sawai Gandharva, who also taught the brilliant Gangubai Hangal, decided to teach him. The association lasted till Gandharva's death, after which Joshi held an annual music festival in Pune in his memory.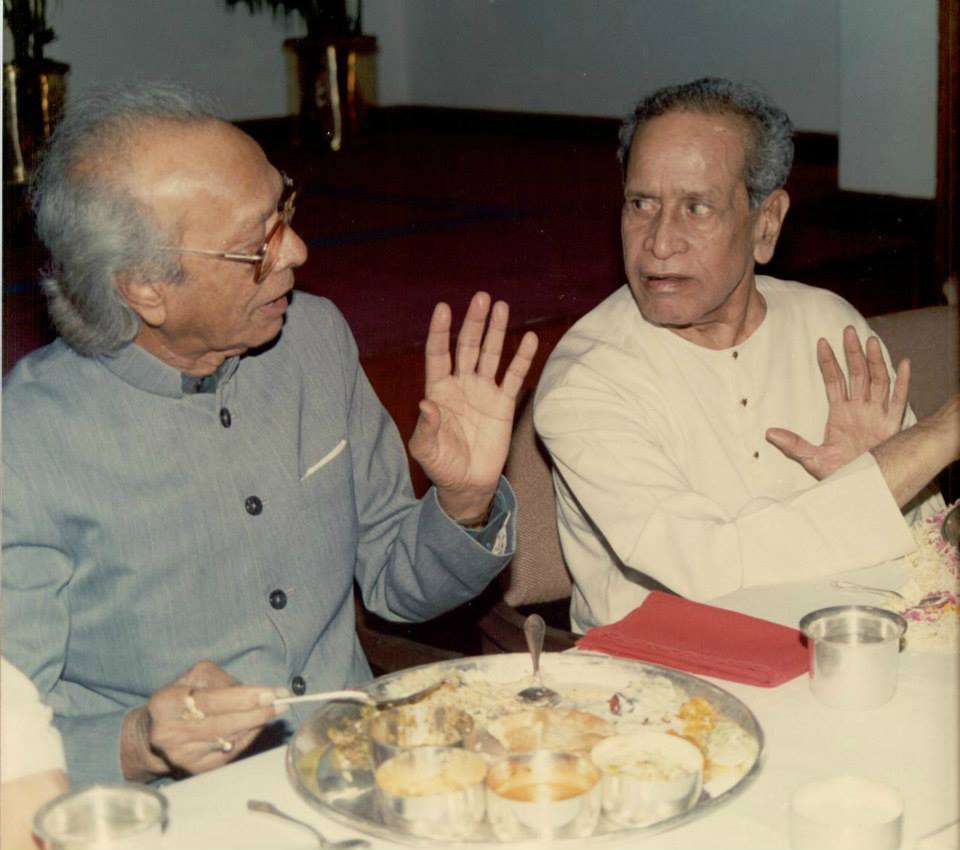 Joshi first performed live at the age of 19 and recorded his first album of devotional songs the following year. Since then, there has been no looking back. Those days, north Karnataka boasted of luminaries like Hangal, Pt Mallikarjun Mansur, Pt Basavaraj Rajguru, Kumar Gandharva and Pt Puttaraj Gawai. Simultaneously, the Kirana gharana had notable artistes like Pt Sureshbabu Mane, Hirabai Badodekar, Saraswati Rane, Hangal, Rajguru, Pt Firoz Dastur and Roshanara Begum.
Surrounded by genius, Joshi carved a niche of his own. His rendition of Hindustani classical raags like Todi, Multani, Puriya Dhanashree, Shudh Kalyan, Abhogi, Miyan Ki Malhar and Darbara Kanada attracted a huge number of admirers. Though he changed his accompanists often, some accompanists included Sheikh Dawood, Nana Muley and in later years Bharat Kamat on the tabla, and Appa Jalgaonkar, Purushottam Walawalkar and Tulsidas Borkar on the harmonium.
While his vocals left audiences engrossed, one couldn't but help notice his stage mannerisms. He often wore simple white or off-white kurtas, and his eye contact would be divided between the ceiling or sky and the accompanists. If he looked at the audience, it was only in passing, but his hands and shoulders swung vigorously, matching his aggressive facial expressions. His entire demeanour was a picture of complete focus and concentration.
Besides classical raags, Joshi had a good command over thumris, Kannada songs and Marathi abhangs. On the film circuit, he sang 'Ketaki Gulab Juhi' with Manna Dey in the 1956 movie Basant Bahar, with Shankar-Jaikishen providing the music. The story has it that Dey was afraid to sing, more so because the character he was representing would win the competition.
Joshi, who settled down in Pune, was at his peak from the late 1940s to the early 2000s. His son Shrinivas Joshi is carrying forward the family tradition.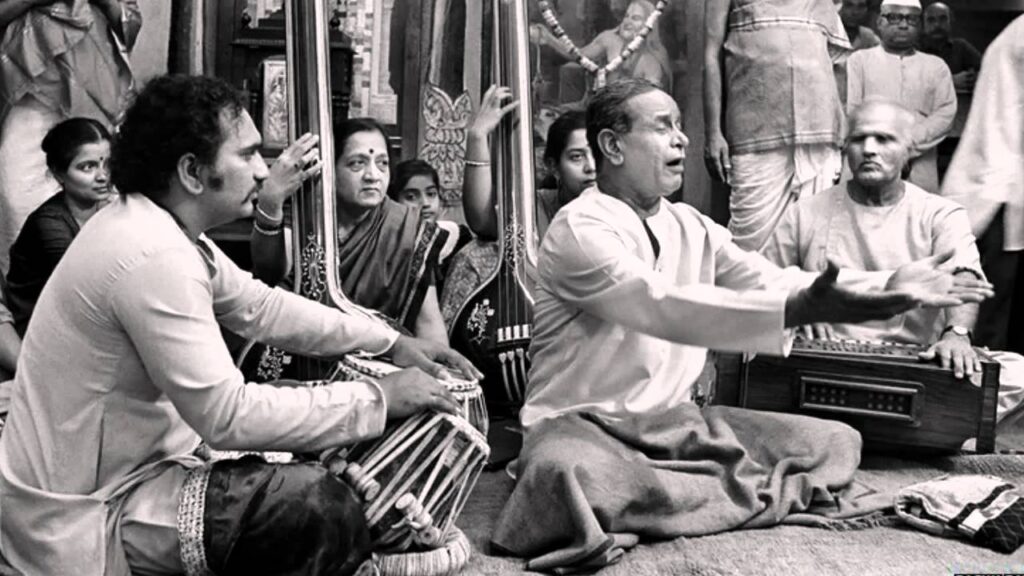 As a teenager, I attended Joshi's concerts often in Dharwad and Hubbali when I visited during summer holidays. His senior disciple Pt Madhav Gudi was a relative who came to our place and narrated experiences of tours. Later, during my career as a journalist, I met him three times, and each encounter was different.
The first time was at the Sayaji Hotel in Indore in 1995, where he stayed in the room next door. Though I was a journalist, I hadn't begun writing on music yet. I suddenly bumped into him in the corridor, and very stupidly I asked him in Kannada, "Are you Pt Bhimsen Joshi?" He innocently replied, "Houdu (Yes)". I told him I was a journalist who originally belonged to Dharwad and he said he knew my grandfather. Soon, he told me to interview him, and since I was not prepared, I lied that I had to rush for my flight. Later I regretted my action, and even felt bad I hadn't touched his feet, as per the custom. For months, I never told my boss or my parents about this encounter.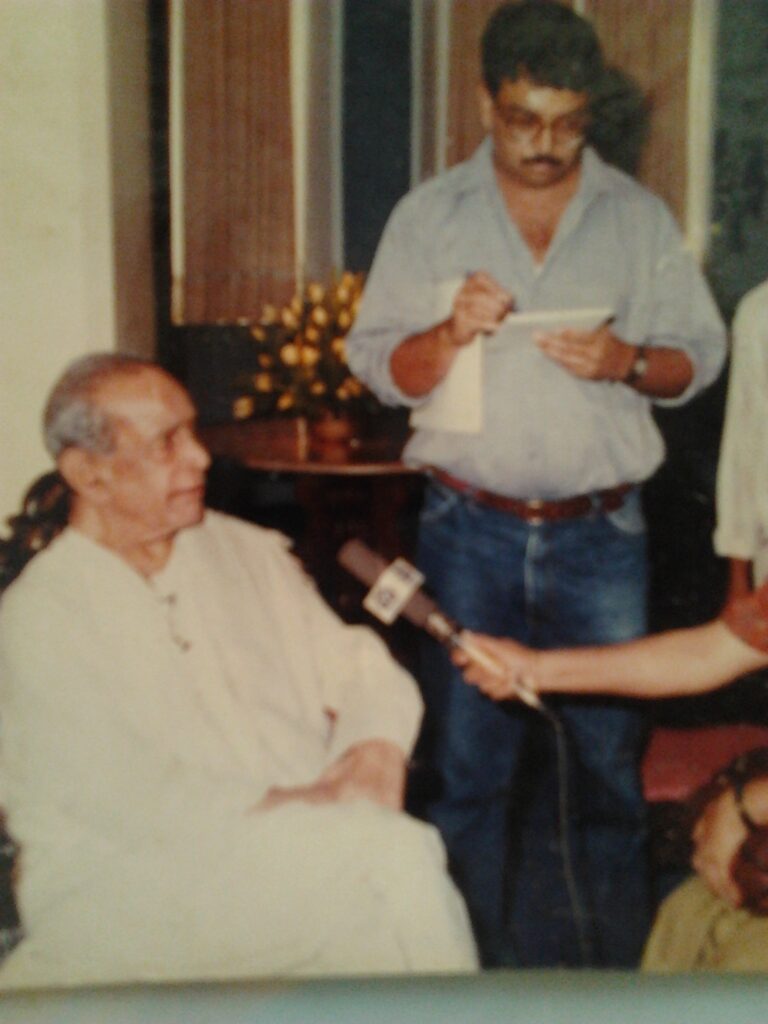 The second meeting was at a press conference held to launch a Music Today cassette series to celebrate his 75th birthday in 1997. It was a crowded affair with too many TV journalists trying to grab bytes, and I couldn't ask him much. However, I had enough material for an article.
We last met in 2001, when he had come for Pancham Nishad's Tapasya concert in Mumbai, which also featured Pt C.R. Vyas and Pandit Jasraj. This time, I got exclusive time for an elaborate interview. It was very much like the unfolding of a raag, starting slowly and then building tempo with various kinds of ornamentation.
I was in Chennai when I heard the news of his demise on January 24 morning. Since I wasn't carrying his music at that time, I made it a point to buy some CDs later in the day. Later that day, I was totally immersed in his rendition of Marwa, Puriya and Kaunsi Kanada from Times Music's Unsung series. Ten years later, Joshi's voice lives on.
Essential Bhimsen Joshi

1. Raag Marwa – From Times Music's Unsung series

2.Raag Puriya Dhanashri – From Navras Records album first released in 1993

3. Raag Miyan Ki Malhar – Live at Town Hall, Kolkata on Inreco Entertaiment

4. Mile Sur Mera Tumhara – With other artistes on YouTube

5. Ketaki Gulab Juhi – With Manna Dey in the 1956 film Basant Bahar, YouTube

6. Teerth Vithal – Marathi abhang in raag Ahir Bhairav

7. Bhagyada Lakshmi Baaramma – Kannada bhajan

8. Nadiya Kinare – Thumri in Piloo

9. Jamuna Ke Teer – Thumri in Bhairavi

10. Jo Bhaje Hari Ko Sada – Bhajan in Bhairavi