Seniors Today launched in July 2019 with a cover feature on Lata Mangeshkar. We reproduce the same with our respects- Ed

—————————————–

Singing legend Lata Mangeshkar talks to Subhash K Jha about her life, work, passions and the laughter.
Better known as the Nightingale of Indian filmland, singing legend Lata Mangeshkar is known to not give interviews very easily. She has been termed variously over the years: arrogant, reclusive, unsociable, but once you get her talking there is no stopping her. Didi, or elder sister, as she is fondly called, will turn 90 on September 28, 2019. In this freewheeling interview with Subhash K Jha, she talks about her life, work, passions and her relations with her contemporaries, including sister Asha Bhosle. Read on…
How do you assess you own career as a singer?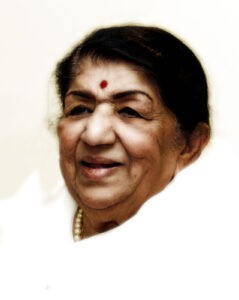 If you ask me, I did okay. Achchha hai… Lekin aur bhi achchha ho sakta hai (I did well. But I could've done better). I've never stopped to admire any of my songs, 'Wah wah kya gaana gaya hai.'
That's not for you to say. That's for us to say, isn't it?
But I know what you don't. I know the places where I've made mistakes in my songs. And an artiste should never be satisfied with what he or she does. There should always be hunger to excel. That fire….look at Bachchan Saab! That's what keeps him going. No matter what your sphere of activity there must always be that hunger to do better. As a writer I am sure you also want to do better. With my songs also I always felt I could do better, even the ones that people today think perfect.
Ok, which is the song that has given you maximum satisfaction?
(promptly) The songs that I sang for my brother (Hridayanath Mangeshkar) in the album of Meerabai bhajans Chala Vahi Des. I always feel that I've done justice to whatever Hridaynath gave me to do. It has been my must successful endeavour to date. I've also done justice to some of the compositions by Salilda (Chowdhury), Madan Mohan and Jaidev. Jaidev was the most challenging among the composers. He had a sound knowledge of classical music. He would say, 'I've told her what to do. Now I don't need to worry.' Once he composed a song he left it to me to worry about it. It became my responsibility. And I'd be endlessly worried. I remember he had composed a Nepali song for me written by the King of Nepal, King Birendra (Jun Mato Na Mero in the Nepali film Maatighar). It was one of the toughest songs of my career.
It is often said that composers made you sing songs at an unnecessarily high pitch just because you have the range?
This is true. I'll give you two examples: Ehsaan tera hoga mujhpar in Junglee and O mere shah-e-khuba in Love In Tokyo, both composed by Shankar-Jaikishan. Both the songs were first sung by Mohd Rafi Saab. Then they decided they wanted the same songs sung by me. They came to me after filming the songs with the leading ladies of the two films Saira Banu in Junglee and Asha Parekh in Love In Tokyo, in the voice of Rafi Saab. And I was asked to sing the songs exactly the same way, since it was already shot with the heroines in Rafi Saab's voice.
This sounds like a form of emotional blackmail?
Jee haan. I wasn't allowed to lower the scale of the original tunes since it was already filmed. So I had no choice but to sing in Rafi Saab's pitch. I remember how difficult it was for me. And I was very upset with Shankar-Jaikishan for making me do this.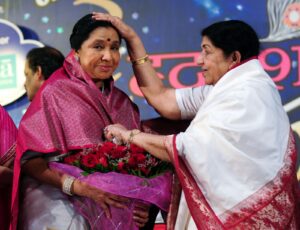 Don't you wish you had more time to practise your classical singing?
Shall I tell you something? It is much more difficult to do playback singing for films than to sing classical vocals. When you are doing classical vocals there is room for improvisation. But when you sing playback you have to go exactly by the requirements of the character on screen. I used to find out what the heroine was supposed to be doing, why she was singing the song, etc… Playback singing requires tremendous amounts of precision in rendering the lyrics and tune. Har cheez sambhaalni padti hai. Maybe composers felt that Lata could pull it off.
What is your assessment of yourself as a singer?
There have been better singers than me like K L Saigal Saab and Noor Jehanji and there will be better singers than me in future. I always say whatever skills I've imbibed are God's gift. I'll also admit that it's never been an insurmountable challenge for me to sing anything. Every artiste has a talent. What the artiste does with that talent is up to them.
Recording songs during your heyday was really tough. It is said you got the echo effect in Pyar kiya toh darna kya by singing a bit of the song from the bathroom of the recording studio, and that once while recording a song for Salil Choudhury you fainted?
Not true. The echo effect in the Pyar kiya toh darna kya song was achieved by singing away at a distance from the microphone but not in the bathroom. Please! And I did faint once. But it wasn't for a song by Salilda. It was a song by Naushad Saab for the film Amar filmed on Madhubala.
Your improvisations in the songs, the harkat as it was called, often took songs to another level, for example the 'Oye oye oye' in the Bichua number in Madhumati?
No that wasn't mine. That was the composer, Salilda's idea. But yes, I did put in my own harkat once in a while. Once Rafi Saab and I were recording a duet for Shankar-Jaikishan. During rehearsals I decided to improvise at one point in the song. But I didn't reveal my harkat during rehearsals. I kept it to myself and I sang it only during the final take.
You did not????!!!!
(laughs) Yes, I did. When the final take happened everyone was thrilled by my improvisation. But Rafi Saab was very upset. All this was in good spirit. No harm meant.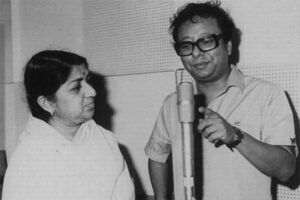 Who was your favourite co-singer?
Kishoreda (Kumar) without doubt. We were constantly entertained during, before and after recordings with him. He would have us in splits. But he would get serious in front of the music composer. He was very sad under the mask, though. A month before his death I got to know how unhappy he was. He called me to share his sorrow. He didn't want to come home as there would be too many people there. So we met at mutual friends' place where I saw the other, somber side of him. I'll never forget what he told me about his life that evening.
What did he tell you?
I can't share that. But I had never imagined he was so unhappy from within. He said I was his rakhi sister and he wanted to share his grief with him. After listening to him I told him I was there for him whenever where he needed me.
You have been very lucky with your family life?
Yes, indeed. I had to look after my family from a very young age. But they never made me feel burdened. My siblings have always given me great strength and joy. They could have easily felt I was getting more (fame, recognition, etc) than them. But they never felt that way. To this day my one and only brother Hridaynath has never shown any interest in my wealth. The same goes for my sisters as well. They care deeply for me. In fact when I am unwell I hate to tell my family about it as they get so worried, Unke chehre utar jaate hain. Only the blessed get such a family.
Didi, tell us, was Ae mere watan ke logon supposed to be Ashaji's song?
I'll tell you the complete story. Hemantda (Hemant Kumar) came to me and said that in the wake of the Indo-China war, I must go to Delhi for a show on the occasion of Republic Day. I was hesitant. My sister Meena was getting married after 15 days. I was going through ill health. But every composer was after me to sing his composition at the function. I said no to everyone and decided to take four musicians with me to Delhi and sing Allah tero naam (Jaidev's song in Hum Dono).
Then C Ramchandra came to me and said that poet Pradeepji had written a patriotic song that he wanted only me to sing at the function in Delhi. Who knew at that time that Ae mere watan ke logon would become such a momentous song? Since I had turned down other composers I was hesitant. But C. Ramchandra insisted. He felt that Ae mere watan ke logon would pull his career out of the doldrums. So I agreed. During the rehearsals, I suggested that we should turn the song into a duet with Asha. I don't know if she rehearsed for the song or not. But four days before we were expected to leave for Delhi, Asha backed out. I was shocked. Finally I had to rehearse and memorise the entire song from a tape on the aircraft, just a few hours before the show. I sang the song.
Panditji loved it. I went to his home to meet Indira Gandhi and Rajiv. When I returned to Mumbai, newspapers were splashed with pictures of Panditji and me. I have never stolen songs from anyone. I had suggested Asha's name myself. So why would I snatch the song away from her? I swear on my music that this is the truth. I have a feeling that someone instigated Asha into believing that Ae mere watan ke logon was meant to be her song. But you can ask Pradeepji. He'll tell you what the truth is.
You've been working with three generations of music composers. Isn't there a generation gap between you and composers like AR Rahman, Vishal Bharadwaj, Anu Malik and Jatin-Lalit?
(Firmly) Nahin. In my opinion, a singer should never be conscious of such things. Irrespective of the generations they belong to, all music composers try to do their best. As a singer, I used to enjoy the challenging compositions of the past. I admit the young music directors of today are a little scared of me. But I've never ever misbehaved with any composer or told him that his tune is no good or that I'll sing it in my own way.
But they might find it difficult to tell you what they want!
I don't mean to praise myself. But to date, I've always tried to grasp the nuances of a song by sitting with the composer, like a student sits before a teacher. In the past, I would make suggestions while singing for Madan bhaiyya (Madan Mohan), Shankar-Jaikishan and Laxmikant-Pyarelal. Even Burman dada. Quite a few directors encouraged me to suggest an alaap here or a taan there. But I've never forced my suggestions on any music director.
How would you describe your professional interaction with your brother Hridayanath Mangeshkar?
I don't dare to suggest a word when I sing for him. But if I don't understand something in his composition, I do badger him with a hundred questions.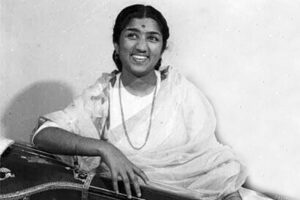 At times, his tunes are quite complex, aren't they?
For a singer, yes, they're complex. But I feel he's been maligned in this matter. In the past, Sajjad Hussain composed what you call complex songs. And rumours were spread that he's too exacting, temperamental and egoistic. Actually I loved Sajjad Hussain's music because like Naushad saab and Madan bhaiyya, he insisted on poetic lyrics. These composers understood and appreciated Urdu. Those who had some difficulties with Urdu or Hindi would consult specialists. For instance Burman dada and Salil Chowdhary would make a thousand enquiries about the Urdu and Hindi words.
What else would you say was remarkable about the composers of yesteryear?
I'll tell you another thing about Sajjad saab's music. He was very particular about melody. Even if one instrument was slightly off-key, he would be livid. Once during a recording, he asked a famous singer to stop at the gandhar. The singer wanted to know what gandhar was. Sajjad saab was aghast. Sometimes I wonder what he would have said about today's singers. Like my brother, Sajjad saab used to get angry over any trace of imperfection.
Are any of the top composers of today perfectionists?
I don't know how many of them have a deep knowledge of classical music. The earlier composers were steeped in classical music. Burman dada's knowledge of folk music was tremendous. He also used to sing with great feeling. Pancham was the master of rhythms. Pyarelal had learnt to play the violin from his father. Laxmikant too knew a bit about classical music. Madan bhaiyya was exposed to classical music in Lucknow. Sajjad saab would compose nothing but classical music. He played the mandolin superbly.
As for my brother, he speaks his mind. He doesn't hesitate to praise a fellow artiste. I remember once Madan bhaiyya had come home for a meal. The music of his Jahan Ara had just been released. My brother liked the songs so much that he asked Madan bhaiyya to autograph the record. If Hridayanath doesn't like any of my songs, he criticises me immediately. I don't mind that all. In fact, I've always valued frank opinions in my life. Some people praise me to the skies and criticise me the minute my back is turned. I made Hridayanath listen to my Jiya jale. He liked it very much. I've always been very particular about songs that I sing for him. At times, I even get angry at his exacting ways.
I feel the way you sang for Madan Mohan was extra-special.
His compositions were like that. But no matter whom I've sung for, I've tried to give my very best. If I feel I can't do justice to a song, I opt out. If composers can't wait for me to give my best, then they're free to get their song recorded by someone else. I'm told that some singers criticise composers on their face. I could never ever do that.
You sang for Twinkle Khannna in Jab Pyaar Kisise Hota Hai. You sang for her mother Dimple Kapadia debut in Bobby. I have a feeling you'll be singing for Dimple's granddaughter after we're all gone.
(Laughs) Then who'll listen to my songs? I don't remember if I've sung for Shobhana Samarth but I've sung for Nutan, Tanu and Kajol. You'll be surprised, but recently I saw an old film on television located in the Arabian desert. I was surprised to see myself singing for Ruby Myers (Sulochana)! I didn't even know the song. But I said, chalo if I've sung for her as well, to bahut badi baat hai. When I was a child, I used to run off to see her films.
How do you feel when you hear your own songs?
I always find faults with my singing. If I don't like what I've sung, I put my fingers in my ears and run away.
You know what (the renowned classical singer) Bade Ghulam Ali Khan said about you, don't you ("Kambakht, kabhi besura gaati hi nahin hai!")?
(Laughs shyly) Yeh unka badappan tha. He was a very great singer. I truly admire him. Believe me, I always find faults in my singing, Once, Kishore Kumar told me that if he heard people listening to his songs, he would start speaking loudly to distract their attention. He would continue to talk loudly till the weak spots in his song were over. If one doesn't like one's own song, there's turmoil within oneself. If I'm not satisfied with a song I've recorded, I can't sleep that night.
Which songs haven't you been satisfied with?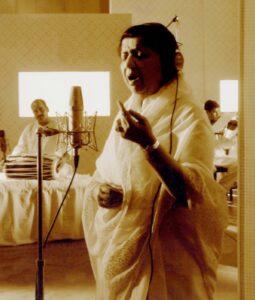 Offhand, I can't recall any. But there are songs which the music composers and listeners have liked. But I've felt that I didn't do full justice to them.
Your songs for the films of Raj Kapoor are timeless. What it was like working with him?
His style of working was unique. With him around, there would be unforeseen tension. Sometimes, he'd come on the sets and change the entire song. Since he was a musician himself, he knew exactly what he wanted. When he wanted a hit song he'd say he wanted a popatiya number. But personally I feel that Shankar-Jaikishen gave better music outside Raj Kapoor's films. For Raj Kapoor, they had to work within prescribed limits.
Raj Kapoor and you started your careers, as singer and director, almost together, didn't you?
No. When he made Aag (1949), I was doing bit roles in films. I hadn't started singing professionally. I sang for him, starting with his second film Barsaat.
Ram Ganguly (who composed for Aag) was supposed to do the music for Barsaat. Shankar-Jaikishan were Ganguly's assistants, they'd composed some of his songs. Raj Kapoor wanted to use them instead. Jiya beqaraar hai was my first song for R.K. Raj saab would joke that since I'm a classical singer, I should be treated cautiously. But after I recorded for him, he showed absolute confidence in me. In Barsaat, I ended up singing for all the female characters. But I must tell you that I would have a fight with Raj saab during every film, for one reason or another.
Like?
Koi aisa waisa gana aa jaye to main unse ladhne lagti thi. I used to quarrel with Jaikishen also about such songs.
Budhha mil gaya from Sangam, for instance?
Yes, they convinced me that the girl in Sangam is newly married and she's teasing her husband. Hota tha aise hi kuchh kuchh.
Were you friendly with any of the heroines for whom you sang?
I was quite close to Nargisji. Also Meena Kumari and Madhubala. I'm told that in her contracts Madhubala would stipulate that only I would sing for her. I share a cordial relationship with Saira Banu to this day. Jaya Bachchan is another favourite. I remember during the making of Abhimaan, she would sit and watch me sing. I used to wonder why. Then I saw the film. During the songs, she dressed and behaved like I do during my recordings.
Why have you been called an aloof, arrogant and ruthless professional? How and why did this image come about?
Do you want to know why people are nervous of me? There's a saying that if someone burns his mouth drinking milk, he even tries to cool down chhach before drinking it. In the past, I loved to laugh and make people laugh. I used to bring chocolates to the recordings and share them with everyone. People exploited my friendly nature. They maligned my name. Once, a well-known recordist kept me back to record a small interlude in a song till late at night. Only his assistant, my sister and I were at the studio, the others had left. He kept making me sing the small interlude repeatedly. After a couple of days, I heard that he was telling people, "See how I drove Lata crazy? The song was good enough as it was recorded initially."
When I heard this, I wept. Then there was a classical musician who maligned me to his heart's content. I treated some music directors, lyricists, producers and directors like my brothers. But they all maligned me. So, I decided to stop attending functions, I stopped talking excessively which was a habit with me. I would say things in jest. But my words would be misinterpreted and distorted. Who needs this? I thought. That's why I prefer staying at home with my family. Now if I'm called arrogant and unsociable I don't care. If I worry about what people have to say, then it wouldn't be possible to continue living.
Yash Chopra called you the most influential Indian of this century.
I sang for B.R. Chopra and Yashji for the first time for Ek Hi Raasta. Hemant Kumar had given the music. At that time, I knew Yashji vaguely. When the two brothers separated I received Laxmikant-Pyarelal's message to sing for Daag. I got to know that Yashji always wanted me to sing in his films. When he called me didi for the first time I was taken aback. Then we became family. I miss him.
Can be cut
Before Chandni, there were strong rumours that my voice had deteriorated. Actually I'd fallen ill. Yashji had to shoot the song with a substitute voice. Then I got Yashji's urgent message, saying that I had to dub my songs immediately or it would be too late. Reluctantly, I dubbed for Mere haathon mein nau nau chudiyan hain. I wasn't satisfied with my rendition at all. But he said I was fine. Since Chandni, I've sung for all his films.
Any unfulfilled wish?
None at all. God has given me more than I deserve.
Your message to your fans?
Main itna hi kahungi ke mujhe unka ashirwad hamesha milte rahe. Main hamesha waisi hi rahun jaisa who chahte hain.
Originally published on 15th July 2019