Seniors Today reader Viveca Fernandes cooks up a quick and delicious Christmas Feast and shares her recipes, so that we can too!
Christmas Stuffed Chicken 
It's not Christmas without a nicely roasted stuffed chicken. Though many people have turkey, I find this meat is too bland.  Here is my Christmas Stuffed Chicken recipe for you. Its quick and easy and I hope you enjoy it!

Ingredients
1 ½ kg chicken (whole)
*Wash the chicken, rub it with salt and keep it aside
For the Stuffing
3 slices bread
2 Large Onions finely chopped
1 inch of Ginger finely chopped
6-8 Garlic Pods chopped finely
1 Large tomato skinned and chopped
1 Carrot 
¼ Cup Peas
2-3 Green chilies
2 tsps. chopped Mint & Parsley 
2 tsps chopped coriander         
1 Sour Lime   
A few strips of Bacon
Liver/Gizzard of chicken (cooked and chopped)
2 tbsps. Sultanas
A few almonds
Method:
Cut the bread in small cubes and brown in butter. Keep aside.
In a kadhai or frying pan add ghee, fry onion till light brown, add coriander, chilies, and ½ tsp sugar, tomato, mint, parsley, the liver, gizzard (cooked and chopped)
Now add the bread cubes and chopped bacon and the cooked chopped vegetable and dry fruits. 
Note: You can add half a chopped apple as a variation to the stuffing, and a tblsp of sweet sherry
Add pepper ½ tsp cinnamon spice, a dash of lemon juice. Stir well and cook.  
Stuff the chicken and sew it up, baste or brush some ghee on it and bake till cooked. 
Check the chicken after 40 mins by piercing with a knife. It should be done in 45 mins approx.
Collect the gravy from the chicken in a jug or gravy bowl
Serve the chicken with roast potatoes and gravy
---
Marzipan
No Christmas tray is complete without these colourful treats which are loved by kids and adults alike!
This super easy and quick sweet is a Christmas favourite. It can also be made with blanched almonds, but my family loves the cashew version.
If you don't have molds to shape the marzipan, you can get a variety at Crawford market, Mumbai or any big market stocks them. Otherwise, go online, you are sure to find plenty.
You can make simple balls the size of marbles, if you don't want to use molds.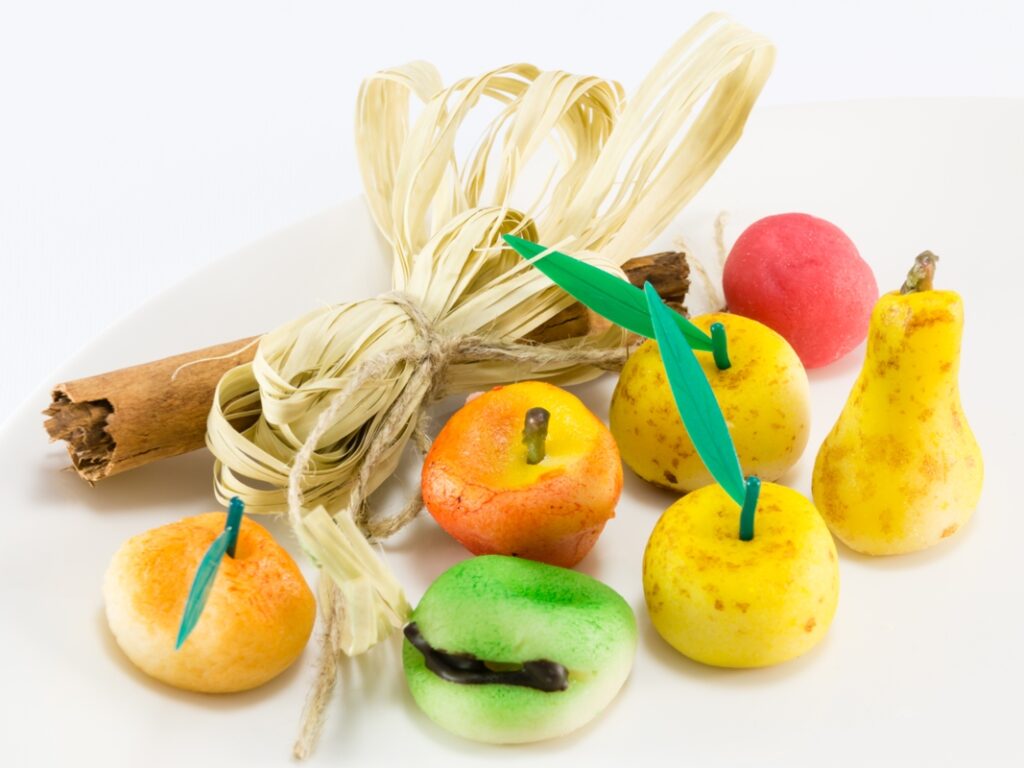 Ingredients
250gms powdered cashew nuts
450gms sugar
150ml rose water
½ tsp almond essence
Food colouring of your choice 
Method
Grind the cashews into a fine powder

In a saucepan, melt the sugar, add the rose water

Add the almond essence after sugar has completely dissolved

Add powdered cashews and cook for 8-9 minutes

Pour the mixture onto a thali and let it cool

Form into portions, add food colouring and sill into molds or small balls (you can add decorative toothpicks to the balls)
Merry Christmas and God Bless!