The advice comes from international health organizations and long-term care facilities. As the world battles an outbreak of the respiratory illness caused by the new coronavirus, coupled with new research out of China that shows older adults and people with underlying health conditions such as heart disease, lung disease, and diabetes are about twice as likely to develop serious outcomes from COVID-19, compared to younger, healthier people.
Since the virus was first detected in Wuhan, China, in December, it has spread to more than 60 countries. It has sickened more than 87,000 people and killed nearly 5,000, mostly in China. Health officials around the globe warned last week that though the risk of infection from the novel coronavirus is still low but we should be prepared for an outbreak.
Things You Need to Know About the COVID-19 :
When do the symptoms appear?
Centre for Disease Control (CDC) reports the symptoms of COVID-19 typically appear two to 14 days after the exposure.
Are seniors more at risk?
Seniors are being hit particularly hard by the coronavirus. The majority of people who have died from the disease are over age 50, citing information from China's National Health Commission. Seniors have fewer reserves, so they're more at risk for any type of infection causing complications. Hence it is important to take all precautionary measures.
How effective is a face mask?
Surgical masks offer some level of protection but only when worn properly. Experts may recommend using N95 respirators, which helps prevent small particles from getting transmitted.  However, the  Food and Drug Administration (FDA) does not recommend wearing any kind of mask to protect from respiratory diseases. Instead, it recommends everyday preventive actions such as – washing hands regularly.
Is there a treatment?
There is no specific antiviral treatment for COVID-19 at this time, just relief from symptoms. However, a clinical trial is underway to test the safety and efficacy of a drug as a potential treatment in adults with COVID-19. Public health officials will continue efforts to contain the disease and are broadening COVID-19 testing criteria in an effort to identify cases early. They are also working on strategies for minimizing the impact of a potential coronavirus outbreak on communities.
Is there a vaccine?
Scientists at the National Institutes of Health (NIH) and elsewhere have been working on developing a vaccine for COVID-19 since Chinese health authorities made the genetic sequence of the virus available. But a vaccine is likely several months away, at minimum, from being available to the public.
Will a flu shot provide protection?
There is no evidence that the flu shot or the pneumococcal vaccination will provide any protection from the coronavirus. Both, however, will increase your chances of staying healthy. And it's important to keep in mind that like COVID-19, the flu can be deadly. Protecting yourself from the flu also lessens the chances of you contracting the infection.
Is it safe to travel?
Although the risk of COVID-19 is spreading internationally. There is no reason to fear or halt domestic travel plans. Travel, continue to live your day-to-day life but make sure you are taking all the precautionary measures at home and while flying. Here are 8 precautions that you must take if you are flying to ensure your safety from getting infected.
If you have international travel plans, the Centre of Disease Control recommends visiting its Travel Health Notices website for travel alerts related to your destination.
What about pets, packages?
There is no reason to think that any animal or pets might be a source of infection reports Centre for Disease Control. But it is always a good idea to wash your hands with soap and water after coming into contact with pets. About the packages arriving from China, WHO and Centre for Disease Control say there is no evidence to show the virus can spread this way.
Why you should stock up your medicines?
Older Indians and adults who take routine medications to manage chronic conditions, such as high blood pressure and diabetes, should make sure they have "adequate supplies" on hand as the number of confirmed COVID-19 cases continues to climb in globally.
So far, India has been able to keep its number of confirmed COVID-19 cases relatively low. But with a growing number of countries experiencing community spread of the illness, successful containment at our borders will become harder and harder. And if the epidemic outbreaks, parts of the cities that are overcrowded, have poor air circulation, have minimum or no sanitation and have high humidity, people living in these conditions are of major concern.
Here is coronavirus global tracker to keep you informed with the latest COVID-19 status (Click on Image)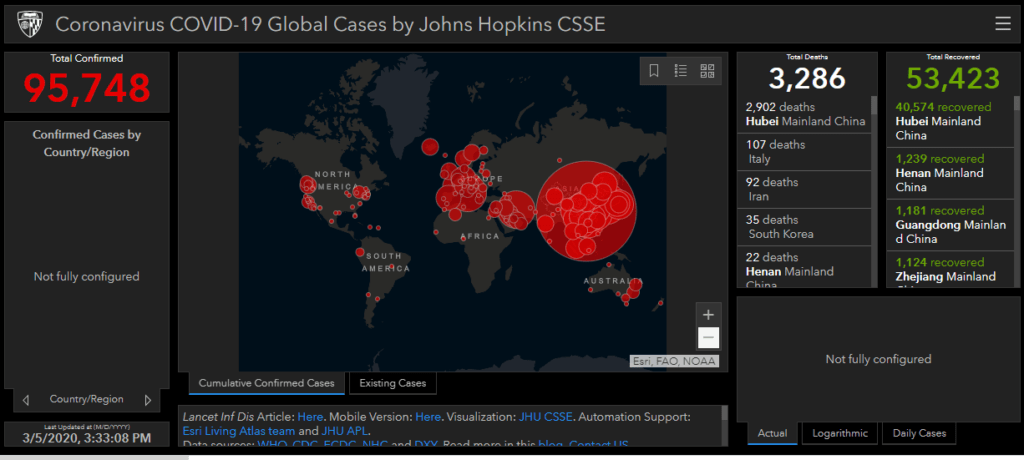 Know more about Coronavirus (COVID-19), its symptoms and the precautionary measures – Click Here