Lalitha Lajmi talks to Sushmita Bhattrai about Kalpana Lajmi, the brilliant filmmaker and maverick personality
"Art is like breathing; I can't live without it." Born into a Saraswat Brahmin family and brought up in Calcutta, sister to four brothers and the niece of the commercial artist BB Benegal, Lalitha Lajmi's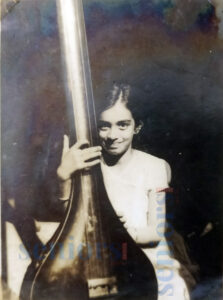 early inspiration in art comes from her grandmother's room where she found oleographs of Raja Ravi Verma. Since then Lalitha always had the desire to be an artist. As children, every weekend their grandmother would take them to their uncle's home on a tram and all the siblings (the Padukone's and the Benegals) would spend the entire weekend watching films.
Visit uncle Benegal's was another place of inspiration. The wall painted by him struck Gurudutt and Lalitha Padukone with awe, influencing their young creative minds. When Lalitha was five, uncle Benegal gave her a box of paints and made her participate in a painting contest where she won the first prize. For the first time, her name appeared in the newspaper, but before she could collect the prize, she was asked to come to the office and replicate her art as it looked too good to be true for a five-year-old. This angered uncle Benegal and he refused to put young Lalitha's talent through a test. That was the beginning of her life as a painter.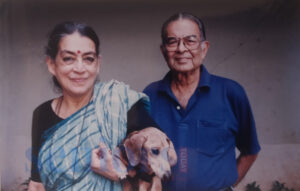 However, Lalitha's mother wanted her to become a classical singer and insisted that she learn classical music. Lalitha did learn and after a lot of insistence she performed some ragas at their community gathering in Calcutta. However, she was more inclined towards painting than singing. Stubborn Lalitha came home one day after her music class and kept her foot down saying, "No More Music, Art is all I want to do."
The family moved to Matunga in Mumbai (then Bombay). On most days Lalitha had a tough time agreeing with her mother on most things. But she was close to her grandmother. Soon a family friend found a suitor from the same community for her – a handsome seafarer for the beautiful Lalitha. The marriage was arranged and she moved to Colaba. Life as a painter after marriage became a little difficult as Lalitha's in-laws disregarded her talent. She would often wait for them to leave to get back to her brushes. Once Lalitha bought home a canvas for herself with the money she was supposed to buy groceries with, and all hell broke loose. Life was a struggle but Lalitha looked forward to what was coming her way.
Raised with love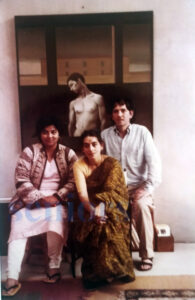 "When Kalpana was born I was looking forward to motherhood."
Although Lalitha never liked the idea of being trained as an artist in an institute, she nevertheless decided to take up an art course. Meanwhile, Kalpana was conceived. Initially Lalitha was shy about her pregnancy as she was the only married girl in class. There were girls in her college who were pursuing all sorts of programmes while she was a housewife. That pinched her somewhere, but Lalitha was very fond of children. When Kalpana was born Lalitha and Gopi, her husband, were thrilled to have a baby girl although the in-laws were disappointed because they were hoping for a grandson. Kalpana was raised with a lot of love, a lot of attention and she was the only child for some time. Lalitha and Gopi gave her the best in their own way.
Coming from traditional families, for Lalitha and her husband everything was decided by their parents. However, when they became parents themselves, they believed in letting their children pursue their heart's desire. Kalpana and Devdas were both brilliant in their own way and were clear about what they wanted to pursue from an early age. For Devdas it was shipping, probably inspired by his father's career, while for Kalpana it was cinema.
Ambitious mother
"I wanted Kalpana to really do well in her career," Lalitha reminisces. When Kalpana was in fourth grade, one of her teachers spotted her talent in dramatics and gave her a chance to play the lead in a play. She was brilliant in her studies and kept participating in school dramatics and elocution till she went to college. After schooling she went to St. Xavier's College where Farooq Sheikh was among her seniors, and was part of a play directed by Farooq. She was fearless and passionate about drama.
Lalitha was too ambitious for daughter Kalpana. She did everything possible for Kalpana's career – from introducing Kalpana to Enact, a drama journal and trying to get Kalpana to enrol for FTII, NSD and a scholarship at MIT, Boston for filmmaking. However, Kalpana kept refusing to be academically trained as a filmmaker. Like Lalitha, Kalpana also didn't like the idea of going to an institute, she preferred learning the art of filmmaking practically, and started on the sets of Nishant along with uncle Shyam Benegal.
One evening at the Juhu residence of Atmaram, another of the Padukone brothers, Benegal brought home a recording by Bhupen Hazarika, a well-known and popular musician in Assam. Everybody was enthralled except the outspoken Kalpana, who didn't approve.
Lalitha suggested that Atmaram should get Hazarika to do the music for his upcoming film Aarop, for which Hazarika came to Mumbai. One evening Atmaram invited Bhupen da to dinner and this resulted in an unexpected turn when Kalpana met him in person. It was love at first sight. She was carried away by the charm and voice of this gentleman, as old as her father, sitting across the dining table.
Kalpana's story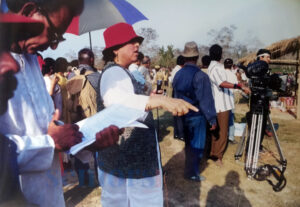 Lalitha Lajmi: Kalpana was young, an 18-year-old who had fallen for a man who was the age of her father. She never told me anything back then; now of course I know. Kalpana fell in love that day at the dinner table. She grew to love Bhupen da. Around that time my sister-in-law Geeta had passed away. So the children would often spend time together, and I believe Kalpana used to meet Bhupen da with that excuse, which I didn't know in the beginning. Bhupen da was then staying in a hotel somewhere in Khar or Santacruz. A theatre friend told me one day that Kalpana had been spending time with Bhupen da. At that point I didn't know what to do. Now when I think of it I feel I was not a good mother because I didn't know how to deal with such a thing. The friend also mentioned that Bhupen da was a person who had destroyed many women's lives. He was not dependable and all this would never end in marriage.
Those days there were no mobiles of course, but we had a landline and Kalpana would spend hours talking on the phone. She wanted him desperately, she wanted to meet him, be with him. One morning she said, "Mummy, I am going to join Bhupen da in Calcutta. He is going to help me make a documentary on Bengali filmmaker D G Ganguly." I didn't question her about the relationship and I chose to believe she meant what she said. Kalpana further assured me that Arun, Gurudutt's son, was also joining her. The documentary was made, Bhupen da did the music and Arun returned while Kalpana stayed back saying she was wrapping things up.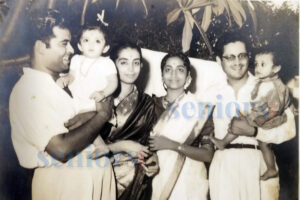 Gone for good
Those days Kalpana was in Calcutta, Devdas was in school and my husband was sailing. I was all alone in the house and it would get lonely. There wasn't much to do. I didn't have any friends there. It was difficult to find like-minded people. When Kalpana had left I thought she was coming back but I happened to open her cupboard and found that everything was gone. She had left for good. It came as a big shock and I burst into tears. I asked Shyam to write to her, and he did, asking her to come back and join him in film-making. She refused. I was teaching in a school that time and as soon as the vacation began, I left to get Kalpana back.
Kalpana had begun to live with Bhupen da openly. I tried to convince Kalpana to come back home with me. Yet she refused. The shock of not only her having left home for good but the way she was living crushed my heart. We had brought her up with such ideas and ambitions and there it was Bhupen da's home, his way of thinking – and he was a difficult man. He would have mood swings, he had a temper, and he was an alcoholic. Though she says that her father was also a heavy drinker and she escaped from this home to another home thinking she will find happiness… but I don't know, it felt the same. Bhupen da would always have a flask of alcohol with him.
I saw her living with all that. They didn't get married then but she was living like a partner. In the beginning Bhupen da could not accept their relationship because he was conscious of his image. And Kalpana was a person who wanted things her own way; she was very bold and unconventional right from the beginning. She did not believe in marriage; she did not believe in many things. He was a brilliant man, no doubt about his genius, but when it came to life, I didn't approve. As an artiste I admired him and always appreciated good work.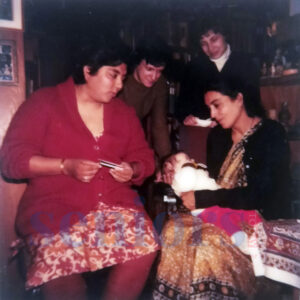 I wept and cried, kept on asking her "aren't you coming home?" and she did not answer at all. In fact, the last day when I was leaving from Calcutta, she didn't even come to see me off, Bhupen da showed up and he said "she will stay on with me." I felt let down by Kalpana. Children don't know what all parents go through to bring them up. I realised crying was of no use because she had already made up her mind. The first few months of living with Bhupen da she did not respond to us very much. And all I yearned for was to hear Kalpana's voice.
Kalpana and Bhupen da lived together and she managed his life. Bhupen da would perform in shows and that was their livelihood. He gave music for her first documentary, and even later on all Kalpana's films music was done by him. And people who loved him would say the film is doing so well because of Bhupen da's music. Whatever the people were saying – the music enhanced the film. I used to feel that if she would have remained in Bombay, her life would have been better. She had already worked with Shyam and she was a talented girl, she was ahead of her times.
Years later there was a slump and Bhupen da wasn't getting work. When everything began to slow down in Calcutta, Kalpana wrote to me saying she was coming back to Bombay.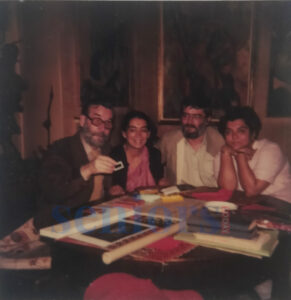 Life in Mumbai
I used to go to film screenings at the Alliance Francaise, and there I met film critic Khalid Mohamed. He asked about Kalpana and I just said she was making some documentaries with Bhupen da, and she had finished her first feature film, Ek Pal. Khalid was on the selection panel at the NFDC, and suggested that Kalpana should send NFDC a script. Kalpana sent a script which was approved without a hitch, and finally she arrived in Bombay with Bhupen da.
This time Bhupen da was a different man. He had quit smoking, would drink only socially. Kalpana had a dominating personality and made sure she got what she wanted. They lived with me for 5-6 years. Bhupen da was a very interesting man – a storyteller, a poet, a charmer and a brilliant chef. He would make these amazing prawn curries. Those were the good times.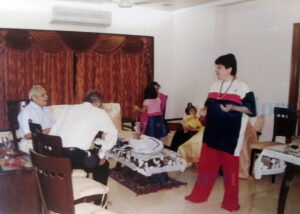 Later on after earning some money they invested in another house nearby, but Bhupen da became really unwell. He underwent surgery but eventually he passed away. I was there with Kalpana as always. I could never have my daughter be alone. She was grieving and that's how she wrote a book on him.
I was beginning to feel invisible around Kalpana. One day I asked her, "Haven't I done anything for you in life?" She simply said, "I can't think of anything you did." My life revolved around her to such an extent that I must have neglected Devdas, and what she said really hurt me. But I guess that's the bitter truth of life, parents are taken for granted. Soon Kalpana was diagnosed with kidney cancer. She had to undergo dialysis and it was expensive. A lot of friends helped and the film industry stood by her in the beginning, but after a point it was not feasible; but fortunately Mediclaim came to the rescue. I was there watching my daughter fight the pain, fight helplessness. She kept pushing me away, probably she didn't want her mother to go through the pain she was suffering. But I stayed by her side till the end and even then, I remember my daughter Kalpana was keener about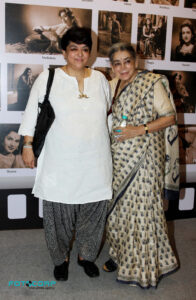 the book launch than anything else.
A few days before she passed away, she said, "Mummy, I want to ask you something… am I going to die?"
I said, "Kalpana, you will not go first I will go first and then you will follow me."
Little did I know that those were her last days. She never returned from the hospital.