Herbs are the tiny but power – packed force behind every Indian meal. Not only are they teeming with health benefits, but they also have a myriad of uses at home. 
Mint is delightful! It's refreshing and cleansing and the oil invigorates you in seconds. What's not to love about mint?
Mint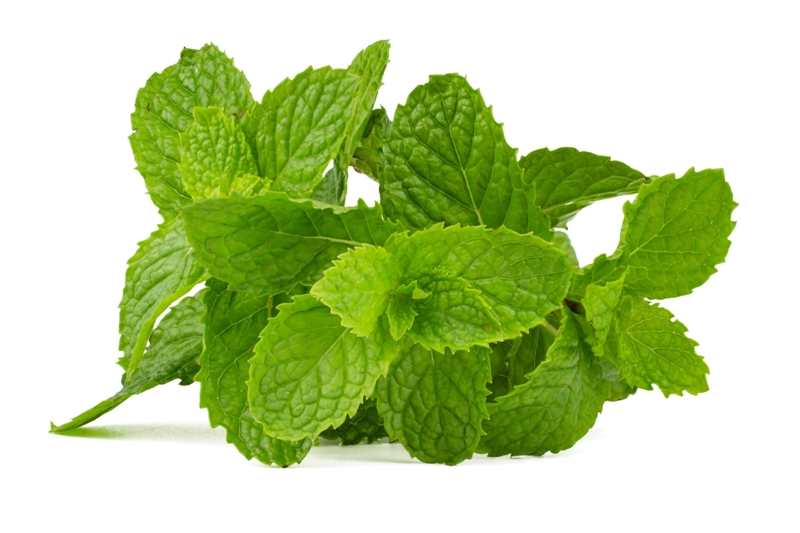 Mint is a generic term for 'mentha plant' family. Peppermint, orange mint, apple mint, spearmint and about 15 more such varieties belong to this family. 
Spearmint (Mentha spicata) and peppermint (Mentha piperita) – are the other two common varieties of mint. The former is sweet, and peppermint is astringent and strong.
Here's an interesting fact: Two cups of spearmint tisanes a day is said to help reduce Hirsutism in women. (Hirsutism causes hair to grow on the face, breasts, and stomach). The hair grows because of excessively high levels of the "male" androgen hormones.
Peppermint or Mentha piperita is one of the oldest herbs widely used in global cuisines and it is highly prized for its innumerable therapeutic properties and uses. 
The fresh and unique flavour of pudina is from the generic mentha plant and its leaves render a distinct taste and aroma to the dishes that it is used for – chutney, raita and refreshing drinks.
Uses and Benefits
Pudina has high nutritional values and rich in vitamins, fibers, iron, folate, and manganese. It makes a good addition to the regular diet.

Mint leaves are also valued as a mouth freshener since times immemorial for its amazing healing properties.

Peppermint can work wonders for almost all your digestive problems.

Consumption of mint has also been linked with relief for asthmatic patients. Mint is loaded with anti-inflammatory properties. It is a good relaxant and relieves congestion. However, make sure you don't overdo your mint dosage, else it may irritate your air passages. 

Struggling with nasty cold and finding it difficult to focus and breathe? Try mint. Yes, there is a reason why your vapor-rubs and inhalers are often available in mint. Mint is known to clear congestion of the nose, throat, bronchi, and lungs. In addition to the respiratory channels, mint's anti-inflammatory properties also relieve the irritation caused by chronic coughing. 

The strong and refreshing aroma of mint helps ease headaches and migraines. In Aromatherapy, balms and oils with a mint base or basic peppermint oil, when rubbed on the forehead and tummy, are effective in curing headaches and nausea. Caution: Peppermint oil is strong and can burn the skin, eyes and nose.

Chewing on mint mouth- fresheners, gum, or mint leaves helps freshen breath instantly due to the presence of germicidal properties.

It also does wonders for our overall oral health. It inhibits bacterial growth inside the mouth and cleanses the plaque deposition on teeth. This is why so many of the toothpastes and chewing gums in the market also come in mint base.

Mint could also play its own sweet role in weight loss, and the reason is tied with its much -famed digestive properties. Mint stimulates digestive enzymes, which help facilitate better absorption of nutrients from food. When the body is able to assimilate and absorb nutrients properly, there is better metabolism. A faster metabolism aids weight loss. 

Pudina leaves owing to its carminative properties helps in digestion and assimilation of food and treats colic pain. The extract of pudina leaves is used to treat intestinal worms.

In Ayurveda this aromatic herb is treated as a natural coolant, with a sweet and a pungent aftertaste. Mint has the quality to pacify all three doshas, and chiefly manages the Pitta dosha. 
How to Grow it 
Although it is always better to buy a mint plant from a nursery, you can also grow it from cuttings. All you have to do is take 5-8 cuttings that are 5-6 inches in length from a mature pudina plant. 
Cut these stems right below the nodes and remove all the leaves at the bottom end. Now your cuttings are ready to plant! Put them directly into the pot and water them thoroughly.
Pudina can grow well in almost all kinds of soils. The soil needs to be fertile, well-draining, and rich in organic matter. The commercial potting mix is the best choice for growing it in containers. You can prepare your potting soil by mixing equal parts of garden soil, fine sand, cow dung manure, and coco peat.
These plants require a lot of water to grow well. Keep the soil in your pot constantly moist but not wet. The continuous moisture will help in the growth of your plant, whereas overwatering your plant can cause bitter leaves. Water the plants only when the topsoil dries out.
Mint plants prefer part shade, though you can grow it in full sun if you water it frequently. 
I feel we are so lucky to have mint in our lives; it is a little helper around the home- from the kitchen to your bathroom. But if you have pets, do remember mint is toxic for all pets, so make sure you keep mint in all its forms, away from them. 
Additionally, if you are on medication, or in any case, it's best to consult your doctor before using mint as a remedy. It is a strong herb and oil.
Also Read :

5 Useful Herbs You Can Grow and Use at Home – Part 1

5 Useful Herbs You Can Grow and Use at Home – Part 2